Carolina Sandhills National Wildlife Refuge

A bird at Carolina Sandhills National Wildlife Refuge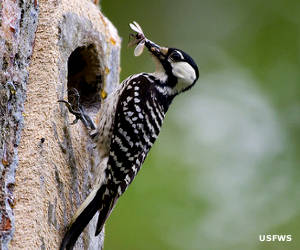 Red Cockaded Woodpecker
Carolina Sandhills National Wildlife Refuge is a 45,348-acre property that was once homesteaded by South Carolina pioneers but it proved too hard to make the property into productive farmland. However, that allowed a large section of a unique ecosystem to survive into the present times. After the farmers gave up, the land reverted to the Federal Land Bank and bank managers consolidated the property into today's Carolina Sandhills National Wildlife Refuge.
When the US Fish & Wildlife Service acquired the property, it was severely eroded and almost no wildlife could be found. The property was characterized by inland sand dunes, thin or non-existent topsoil and frequent brush fires. Today, a vibrant longleaf pine and wiregrass ecosystem has been reestablished on this property criss-crossed with numerous small streams and old farm roads.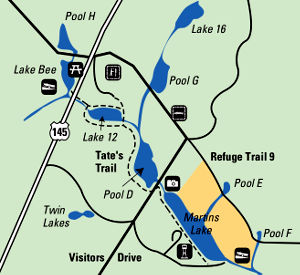 The Carolina Sandhills Visitor Center and Administrative Office is open Monday through Friday, 7:00 am to 3:30 pm, except closed on all Federal holidays. The property is open from sunrise to sunset daily, for day-use only. No camping, campfires or overnight parking are allowed. Hunting and fishing are allowed in accordance with state and federal regulations. Swimming, wading, alcoholic beverages and loose pets are forbidden.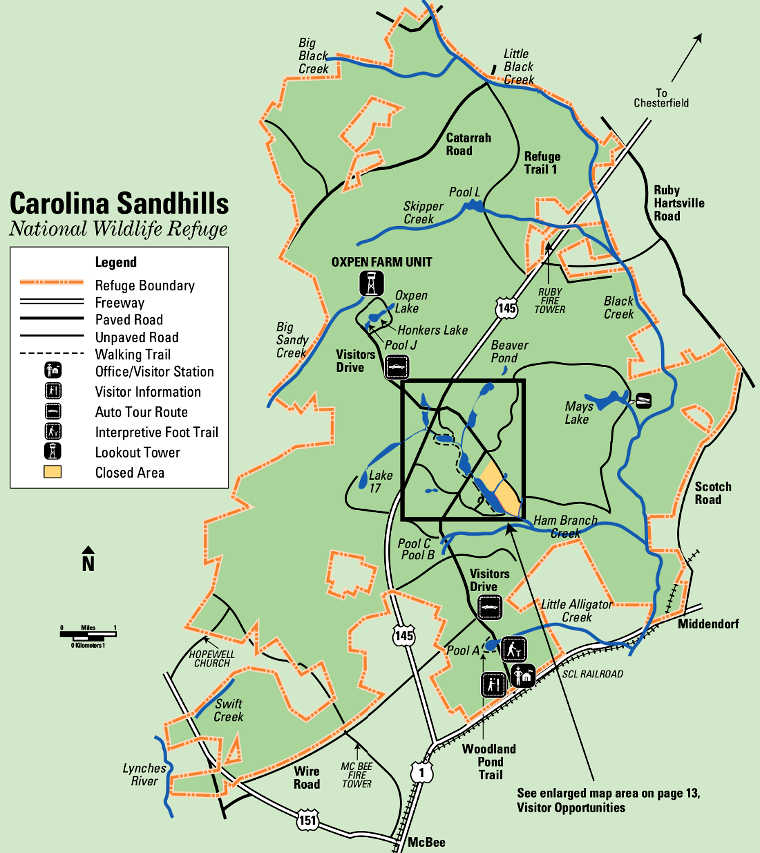 Carolina Sandhills National Wildlife Refuge
Photos and map courtesy of the US Fish & Wildlife Service