Ernest F. Hollings ACE Basin National Wildlife Refuge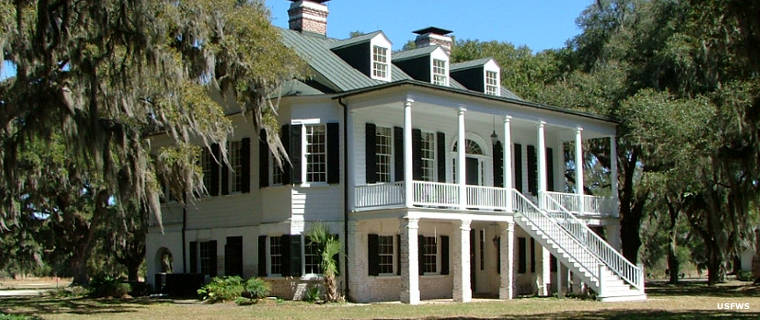 Grove Plantation House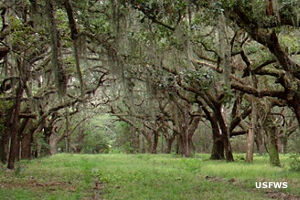 Tree cover in the Edisto Unit
Ernest F. Hollings ACE Basin National Wildlife Refuge is an 11,815-acre property in the Achepoo-Combahee-Edisto Basin region of South Carolina. The property is included the boundaries of NOAA's ACE Basin National Estuarine Research Reserve.

For much of the 1800's, the ACE Basin was a premier producer of rice, owned by a few individuals and managed to maximize rice production. When the value of rice fell off in the 1890's, wealthy individuals purchased many of the plantations for use as hunting retreats. They managed the properties to maximize waterfowl production. Because of that history, the ACE Basin is the largest undeveloped, unpolluted marine estuary on the Atlantic coast. The National Wildlife Refuge protects only a tiny part of the estuarine ecosystem within its boundaries. The refuge is also composed of several non-contiguous parcels: the Edisto Unit and two Combahee Units.
The refuge is open daily from sunrise to sunset but cars need to be parked outside the gates by 4 pm. The visitor center and administration office are located in the historic Grove Plantation House and are open Monday through Friday, 8:30 am to 4 pm, except closed on all Federal holidays. Grove Plantation House was built in 1828 and is one of the last few antebellum mansions in the ACE Basin area that survived the Civil War and still stands.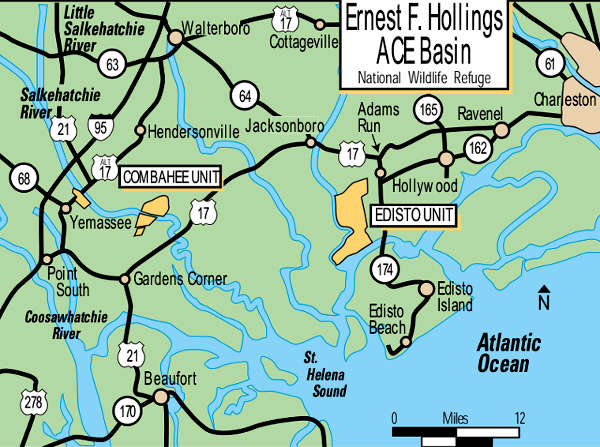 Locations of the units of the Ernest F. Hollings ACE Basin National Wildlife Refuge
Ernest F. Hollings ACE Basin National Wildlife Refuge
Photos and map courtesy of the US Fish & Wildlife Service