Erie National Wildlife Refuge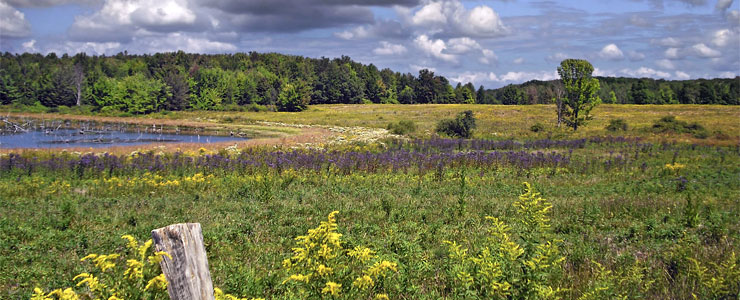 Wetlands at Erie National Wildlife Refuge
Erie National Wildlife Refuge is located in western Pennsylvania, about 35 miles south of the city of Erie. The refuge is comprised of two tracts of land: the Sugar Lake Division with 5,206 acres and the Seneca Division with 3,594 acres. The Sugar Lake Division is on the outskirts of Guy Mills Village and the Seneca Division is about 10 miles to the north on French Creek. Erie National Wildlife Refuge is a formally designated Important Bird Area and a Globally Significant Watershed.
Together, the two properties contain more than 2,500 acres of marshes, beaver ponds, man-made impoundments, creeks, swamps and wet meadows that more than 235 species of birds find very attractive. The wildlife inventory also lists 47 species of mammals and 37 species of reptiles and amphibians on the property. There are also more than 80 species of fish to be found in French Creek.
The refuge offers an auto tour of the property, more than six miles of hiking trails and a bird observation blind at one of the sixteen water impoundments. The visitor center also has a 60-seat auditorium and an indoor bird observation area.
Fish & Wildlife runs a cooperative farming program with local farmers that allows them to cultivate crops on refuge lands as long as they leave the wildlife a share of those crops. Oats, clover, corn and grass are typically what's grown in this area.
To get there: From the south get off Interstate 79 at Exit 141 and follow the signs east along Route 285 to Route 173, then turn and go north to the refuge. From the north: get off Interstate 79 at Exit 154, then follow the signs east on Route 198 to the refuge. Erie National Wildlife Refuge is open every day of the year from sunrise to sunset but the headquarters office is usually only open Mondays through Fridays (except Federal holidays) from 8 am to 4:30 pm.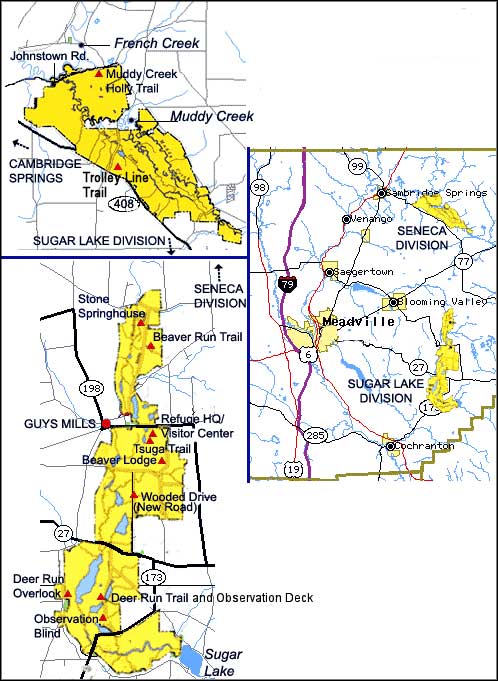 Erie National Wildlife Refuge map
Erie National Wildlife Refuge
Upper photo courtesy of Flickr userid Nicholas T,
CCA-by-SA 2.0 License
Map courtesy of the US Fish & Wildlife Service