Umatilla National Forest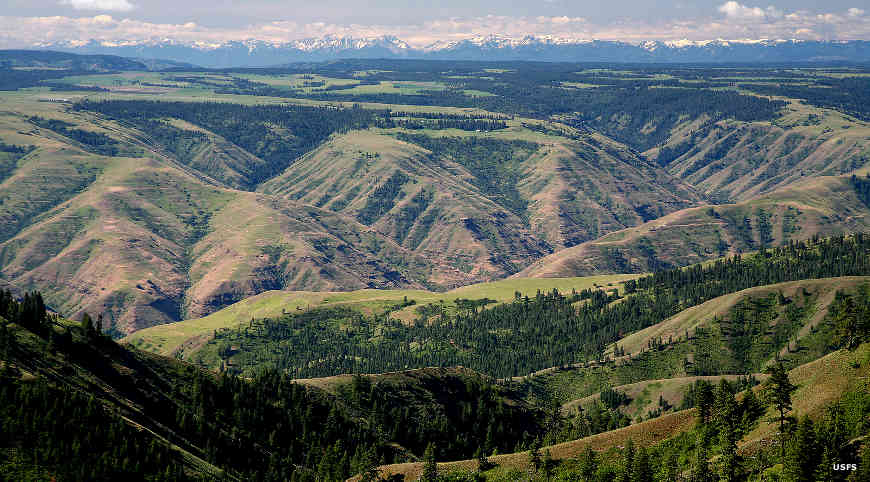 Looking across the Grande Ronde River to the Elkhorn Mountains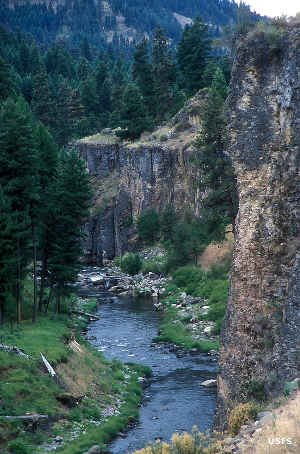 North Fork John Day River
Umatilla National Forest contains some 1.4 million acres, more than 3/4 in northeastern Oregon, the rest in southeastern Washington. Umatilla National Forest came into being in 1908, a merger of Heppner National Forest with part of Blue Mountains National Forest. Wenaha National Forest was added in 1920.
The Lewis & Clark Expedition passed through the area in 1805. The next recorded group of Euro-Americans to come through were Marcus and Narcissa Whitman, missionaries on their way to establish a mission near what is now Walla Walla, Washington. After them came thousands of emigrants over the Oregon Trail, and many of them settled in the Blue Mountains area. Gold was discovered along the North Fork John Day River in 1851 and that brought in hundreds of miners and merchants. Most have left now but some claims are still being worked.
The landscape is a mix of mountains and v-shaped canyons separated by narrow ridges. The slopes tend to be steep and heavily timbered, rising to grassland ridges and benches. Elevations range from about 1,600 feet along the Columbia River to about 8,000 feet in the Blue Mountains.
Wildlife on the forest includes moose, bighorn sheep, elk, black bear, white-tailed deer, mule deer, mountain goat, mountain lion, timber wolf, coyote and badger. Birds on the ground include wild turkey, blue and ruffed grouse and Franklin's grouse. The lakes and streams offer steelhead, coho salmon, chinook salmon, rainbow trout, lake trout and brook trout.
Wilderness Areas
North Fork John Day
North Fork Umatilla
Wenaha-Tucannon
The Forest offers hundreds of miles of off-road trails and more than 35 campgrounds, from semi-primitive to fully developed. Probably the most popular area on the forest is around Jubilee Lake. Dispersed camping is allowed almost everywhere. ATVs need to be displaying the Oregon State Parks and Recreation Operating Decal when on the property.
Ski Bluewood (in Washington) and Sprout Springs Ski Area (in Oregon) are in the heart of the Blue Mountains and are generally open for skiers from late November to early April.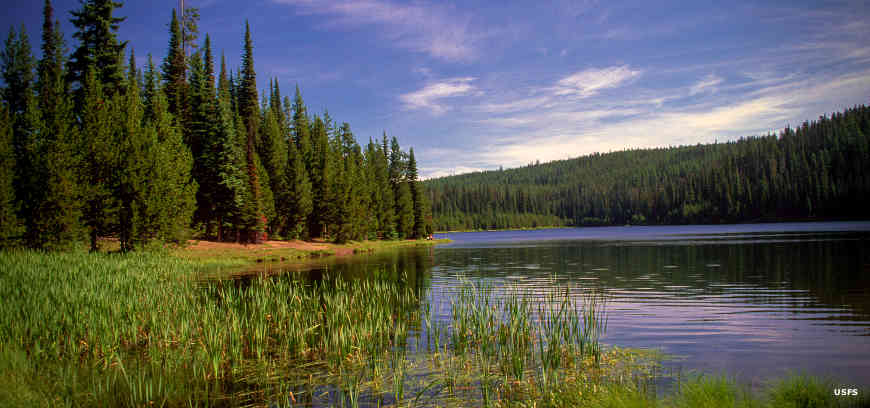 Jubilee Lake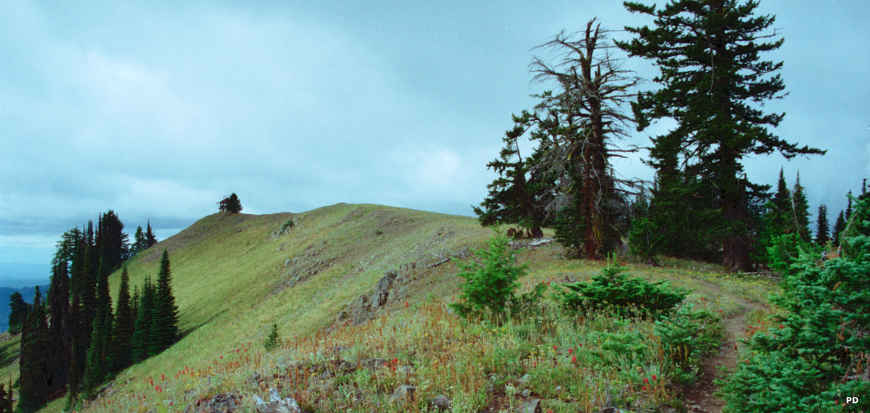 A typical grassy bench on the Forest

Bottom photo is in the public domain
Other photos courtesy of the US Forest Service