Black Kettle National Grassland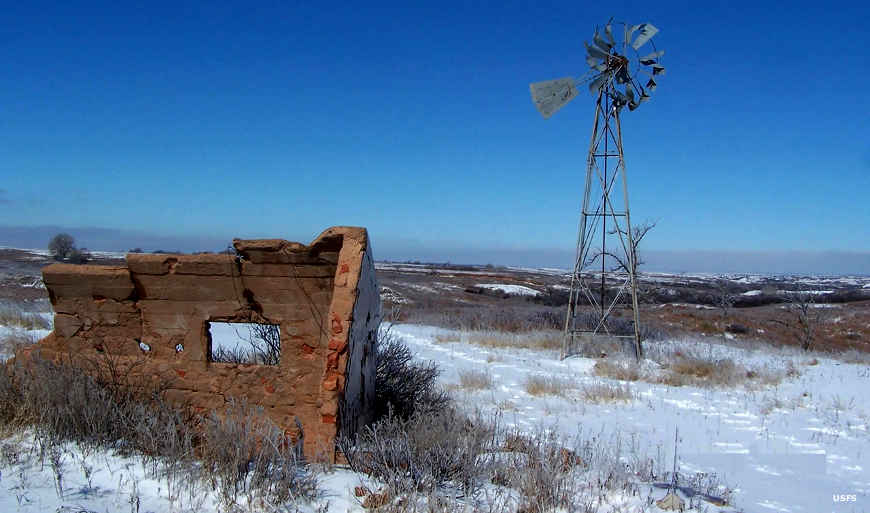 A historic homestead at Black Kettle National Grassland
Black Kettle National Grassland is a 31,286-acre property located in western Oklahoma with about 500 acres in the Texas Panhandle. The Grassland is a patchwork of about 100 tracts of land interspersed with private holdings. This is a mixed-grass prairie region where red slate and sandy hills are covered with grassland and oak brush. The headwaters of the Washita River are nearby and while the stream meanders across the Grassland, it's never more than a couple yards across or a couple feet deep.
In 1867 the area was set aside as part of the Cheyenne and Arapaho Reservation but in 1868, Lieutenant Colonel George Custer with the 7th Cavalry attacked the peaceful village of Cheyenne Chief Black Kettle (on the Washita) at dawn and had his troopers kill most of the men, women and children they found. Then they escaped the area by using the 52 women and children they hadn't killed as hostages/body shields. That attack killed so many Cheyenne leaders it almost destroyed Southern Cheyenne society. To add more insult to the injury, while the Reservation had been set aside for the Cheyenne and Arapaho in perpetuity in 1867, in 1892 the Federal Government opened the area to non-Native settlement and Anglo farmers and ranchers flooded in. Come the years of the Dust Bowl and most of them flooded out, many to California. The Feds bought up the abandoned land, put it in the care of the Soil Conservation Service for 20+ years and then transferred administration to the US Forest Service in 1960.
Today Black Kettle National Grassland offers three developed recreation areas in Oklahoma and a fourth at Lake Marvin in Texas. Dead Warrior Lake is an 80-acre lake, Spring Creek Lake is a 50-acre lake and Skipout Lake is about 60 acres in size. All 4 lakes offer developed picnicking, fishing, hiking trails and primitive camping.
Black Kettle National Grassland is administered by Cibola National Forest out of an office in Albuquerque, New Mexico. There is a local ranger district office in Cheyenne, Oklahoma, shared with Washita Battlefield National Historic Site.


A typical view on the property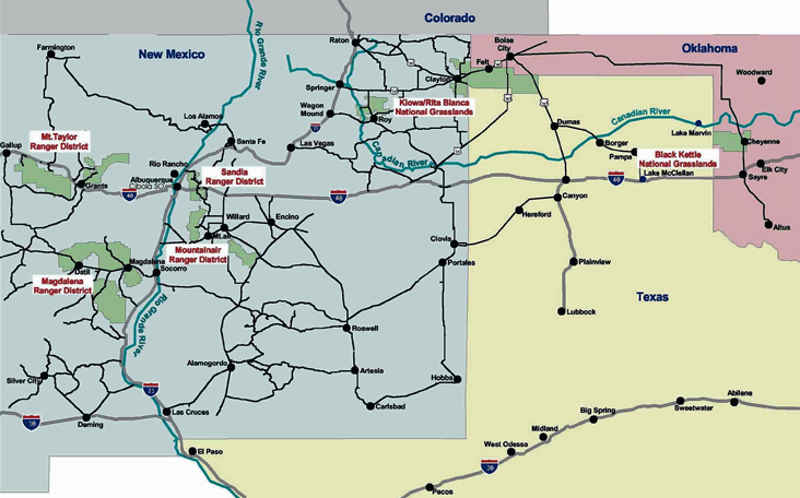 Properties administered by Cibola National Forest
Upper photo and map courtesy of the US Forest Service
Lower photo courtesy of Denny Mingus,
CCA-by-SA 2.5 License