Perry's Victory and International Peace Memorial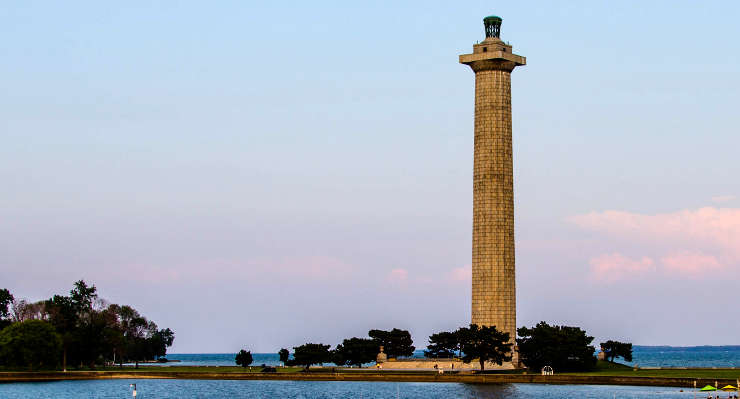 Perry's Victory and International Peace Memorial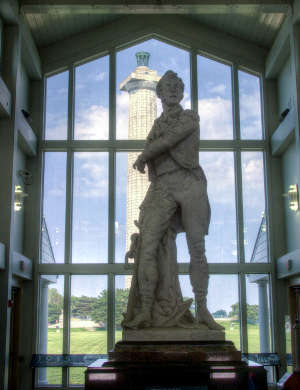 Perry's Victory Memorial Visitor Center
Perry's Victory and International Peace Memorial commemorates the Battle of Lake Erie in the War of 1812 and to celebrate the peace that has existed ever since among the United States, Canada and Great Britain. The Memorial is about 5 miles from the world's longest undefended international border.
The Battle of Lake Erie took place near South Bass Island and was one of the significant battles of the War of 1812: the Americans under Commodore Oliver Hazard Perry won and had control over Lake Erie through the rest of the war. The Battle of Lake Erie has also been significant through maritime history ever since as Perry first raised a flag there with the words sewn onto it: "Don't give up the ship" (and the reality is the ship was nearly destroyed before it was surrendered, then it was recaptured and the British surrender that ended the battle actually took place on its deck). When the battle was over and the smoke began to clear, Perry also sent off another quite famous message: "We have met the enemy and they are ours."
Perry's Monument was constructed on South Bass Island by a multi-state commission from 1912 to 1915. The tower is 352 feet high, the most massive Doric column on Earth. And while the tower was substantially completed in 1915, there were funding problems that prevented the construction of a real memorial complex. In 1919 the federal government assumed control of the site and provided the resources necessary to complete it. On July 31, 1931 the Memorial was officially dedicated. In 1936 the name was changed to Perry's Victory and International Peace Memorial National Monument and in 1972 it was redesignated as a National Memorial. In 2002 $2.4 million was spent constructing a new visitor center. A 500-pound chunk of granite fell off the tower in June 2006 and a survey determined the building was still safe for visitors, so it was reopened in late August 2006 with a fence around it. The structure was closed again in late September 2009 for major repairs. It reopened to the public in early July 2012.
Access to South Bass Island is either by plane or ferry. The Memorial and Visitor Center are generally open from mid-May to the beginning of October. Entrance is free to all but should you want to make the trip to the top of the monument that runs $3 (or more) per adult.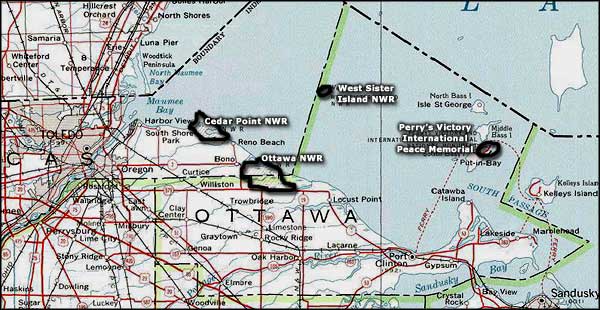 Perry's Victory and International Peace Memorial
Upper photos courtesy of Wikipedia userid Alvintrusty,
CCA-by-SA 3.0 License
Map courtesy of National Geographic Topo!