Hopewell Culture National Historical Park

Mound City
From about 250 BCE to about 500 CE the prehistoric Hopewell Culture blossomed in the Ohio River Valley. Hopewell Culture National Historical Park contains earthworks, burial mounds and other archaeological resources from the Hopewell Culture in five separate sites in Ross County, Ohio.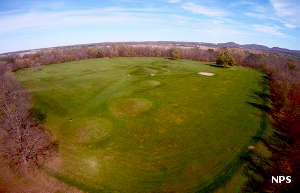 The Hopewell Culture is characterized by their large earthen constructions, some with walls up to 12 feet high and geometric shapes a thousand feet across. Often conical and loaf-shaped earthen mounds up to 30 feet high are found in association with the geometric earthworks. As the time period was late in the hunter-gatherer era and hand-woven baskets were all they had to work with in the carrying of dirt, building any of these earthworks took thousands of man-hours. It also took detailed knowledge of the local soils as soil types were mixed in order to give the construction the most stability.
There are no entry fees charged visitors to Hopewell Culture National Historical Park. The park's visitor center is open daily from 8:30 am to 5 pm except closed on Thanksgiving, Christmas and new Year's Days. There is no camping allowed in the park but the grounds at Seip Earthworks, Mound City Group and the Hopewell Mound Group are open daily from sunrise to sunset. High Bank Works, Spruce Hill Works and Hopeton Earthworks are only open to the public during special events. Spruce Hill Works is privately held and open on a very limited basis: you need to visit the Mound City Visitor Center to get a parking pass and an access code to enter the parking area. You can also contact ArcofAppalachia.org and get a parking permit and access code from them as they are the actual owners of the site.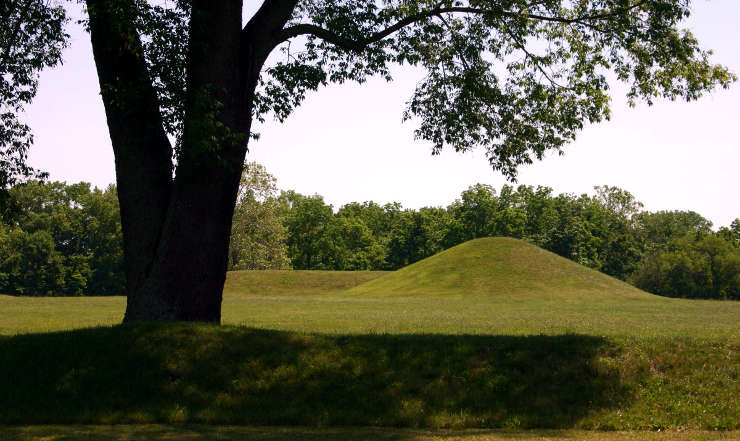 Mound City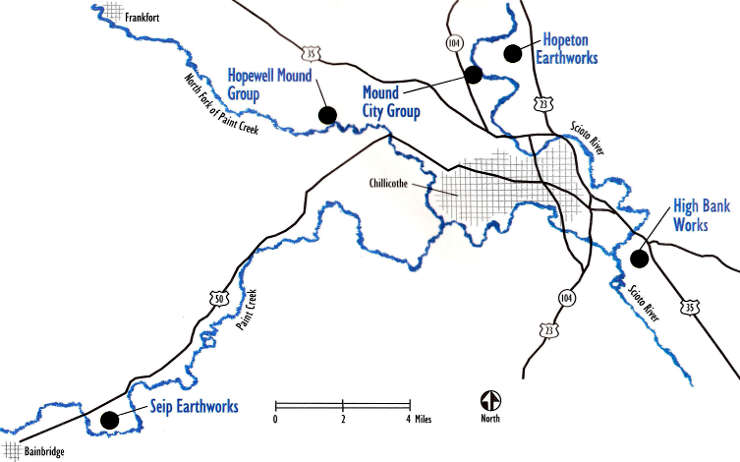 Hopewell Culture National Historical Park
Upper photo and map courtesy of the National Park Service
Upper left photo courtesy of Ryan Fisher, National Park Service
Lower photo courtesy of Wikipedia userid Rdikeman,
CCA-by-SA 3.0 License