David Berger National Memorial

David Berger National Memorial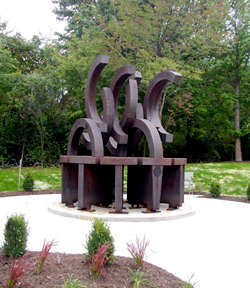 David Berger National Memorial honors the memory of a 28-year-old man born in the USA but died an Israeli weight lifter during the Munich Olympic Games in 1972. He was one of eleven Israeli athletes killed by Palestinian terrorists at the games.
The memorial sculpture was designed and built by David E. Davis, a Romanian born artist. The sculpture contains five broken rings to symbolize the tragic events that ended the Munich Summer Games that year. The broken rings rest on eleven segments that symbolize the athletes who died. The rings are angled in a wave to emphasize the hope of progress surviving tragedy.
The David Berger Memorial is always open but the Mandel Jewish Community Center whose grounds the Memorial sits on isn't. Generally, the reception desk is open Monday through Thursday from 8 am to 9 pm. On Friday the hours are 8 am to 4 pm. Closed Saturdays, open Sundays in winter from 8 am to 5 pm and in summer from 8 am to 1 pm. The hours of operation change for certain holidays and Jewish celebrations. To get the National Parks Passport Stamp one needs to be present during the open hours of the community center. There are no fees involved to visit the memorial but to use any facilities of the Mandel Jewish Community Center one needs to be a member.
David Berger National Memorial
Upper photo courtesy of the National Park Service
Upper left photo courtesy of the Mandel Jewish Community Center