Uwharrie National Forest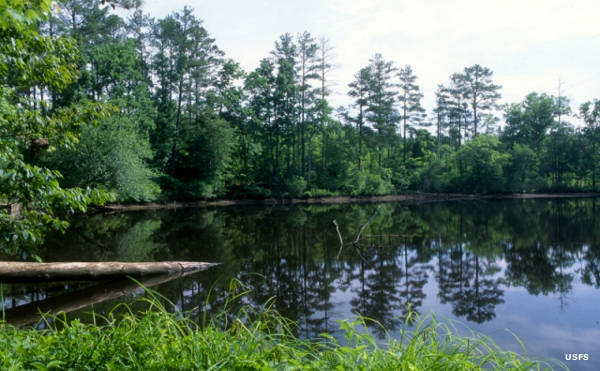 Uwharrie National Forest
Uwharrie National Forest is a 50,645-acre property in south-central North Carolina. The Federal government came into possession of the land in 1931 and President John F. Kennedy signed the documents creating a National Forest out of it in 1961.
The name comes from the Uwharrie Mountains, a geologically ancient landform that the forest sits among the remnants of. Gold was discovered in the area in 1799 and the first real gold rush in America was on, for a few years. Activity has been off-and-on ever since, the last big flurry happening during the Great Depression. Panning for gold is still a favored recreational activity in the streams of Uwharrie.
Uwharrie National Forest offers 6 developed campgrounds, 2 developed picnic areas and the day-use accessible fishing piers at Kings Mountain Point on Badin Lake. Dispersed camping is allowed pretty much everywhere it isn't posted but nowhere near the developed campgrounds, picnic areas or general parking areas.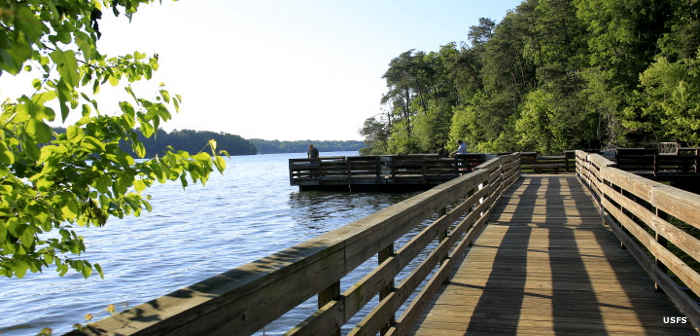 An accessible fishing dock at Kings Mountain Point Day Use Area
Upper photo is courtesy of the US Forest Service
Lower photo is courtesy of the US Forest Service,
CCA-by-SA 2.0 License