Sheldon National Wildlife Refuge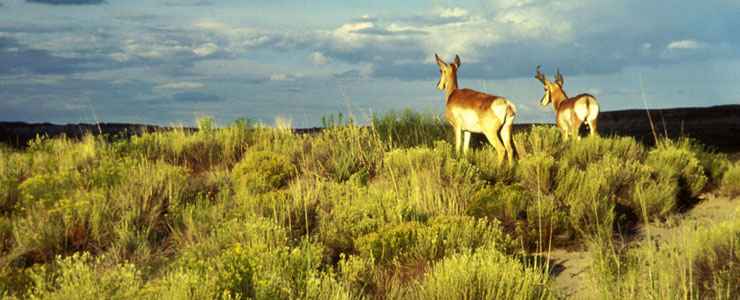 Pronghorn antelope at Sheldon National Wildlife Refuge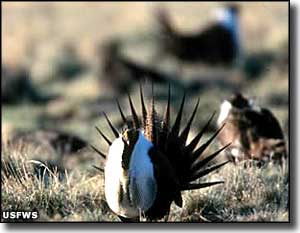 Sheldon National Wildlife Refuge contains about a half-million acres of high desert habitat, perfect for scattered flocks of bighorn sheep, large herds of wintering pronghorn antelope and a large assortment of other mammals and birds. Elevations on the Refuge vary from about 4,100' to about 7,200'. This is a large and rugged countryside of large tablelands and rolling hills cut by narrow gorges with free-flowing springs that feed to several waterfalls along the streams. The vegetation is mostly mountain mahogany, chamisa and sagebrush. At one time, a lot of this countryside was homesteaded, so in some of the valleys you might come across the remains of old ranches and homesteads. The Virgin Valley is still a registered, operating mining district and the valley still draws rock collectors and small miners looking for fire opals. You'll also find several geothermal springs scattered across the property.
The best time to come and watch for pronghorns is in the fall and winter when they gather into large herds. In spring and summer they scatter across the landscape in small groups and are much harder to find. In late summer and fall they collect near the greenery around Swan Lake, then they tend to spend their winters on Big Springs Table.
On the rocky walls above Hell Creek, Thousand Creek and the IXL Ranch, and near the west approach to Little Sheldon you might be able to see some of the small herd of reintroduced California bighorn sheep. Still, you're liable to find more ancient petroglyphs of bighorn sheep than actual living sheep. In the flatter but higher reaches of Sheldon National Wildlife Refuge you'll probably see lots of mule deer. You can also catch a view of mule deer when they come down to Little Sheldon and Catnip Reservoir for a drink.
You can usually find sage grouse in the sparsely-covered hills and valleys along the road between Last Chance Ranch and Catnip Reservoir. The best way to see them is from your vehicle and the best time is in the spring when the males are strutting and thumping their air sacs during their elaborate courtship dances.
Catnip Reservoir, Big Springs Reservoir, Swan Lake, Dufurrena Ponds and the wetlands around the IXL Ranch are managed to attract all kinds of waterfowl, including American white pelicans and Canada geese.
These days you'll also find feral burros and horses roaming all over the Refuge. The most common sightings occur along Highway 140 East. Burros are usually seen throughout the Virgin Valley and in the flats east of Thousand Creek. Wild horses congregate in the valleys between the Catnip and Badger Mountains, using the water holes and mucking up the stream sides.
Most fishing spots at Sheldon National Wildlife Refuge don't allow motorized boats. Catnip Reservoir is catch-and-release only and is open for fishing from September 1 through November 15. Big Springs Reservoir is open for fishing year round and the rainbow and cutthroat trout are always biting. The Dufurrena Ponds offer warm water fish like bass and crappie. The designated fishing hole at the Virgin Valley Campground is for children and seniors only.
There is a very limited amount of hunting allowed for deer, bighorn sheep and pronghorns, and all tags are draw only. All hunting, including bird hunting, requires a Nevada hunting license. Hunting for sage grouse requires a special permit from Nevada DOW. There is no waterfowl hunting allowed in the Dufurrena Ponds area or at Little Sheldon, Big Spring Reservoir or Catnip Reservoir. There is no hunting allowed in the Virgin Valley either, and target shooting is not allowed anywhere.
Camping is allowed only in designated places. The most comfortable spot is the Virgin Valley Campground where you'll find pit toilets, drinking water, picnic tables, a rustic shower house and a warm springs pool. All other camps are more primitive, only a few have pit toilets and none have potable water.
A backpacking permit is required for backpacking, especially if you intend to camp anywhere along your route (the permit is free, just get one from the Refuge Manager). The refuge stay limit is 14 days. Charcoal barbecues and campfires are only allowed during times of low fire danger, and for a campfire you'll need to bring your own firewood anyway. Propane stoves are allowed, except in times of high fire restriction. Horses are allowed but you'll need to bring pelletized feed. Corrals are available at Fish Creek and Badger Camp.
Rock hounds: the Virgin Valley Mining District covers 67,000 acres and has many mining claims on it, including patented claims. Some allow you to collect for a fee but all require permission. Outside the Virgin Valley District, you can surface collect (no digging) up to seven pounds of rocks for personal use per day. The big deal here is the Virgin Valley fire opal, although some beautiful samples of black opal have been found here, too.
The primary access to Sheldon National Wildlife Refuge is via Highway 140. The eastern boundary is 14 miles west of Denio, Nevada and the northern boundary is 68 miles east of Lakeview, Oregon. Once you are inside the boundaries of Sheldon NWR, you'll discover the Refuge is reasonably "road-challenged:" make sure you are well equipped and have everything you might need, even a couple spare tires might be helpful.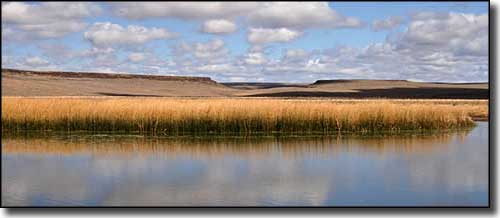 Wetlands in the high desert at Sheldon National Wildlife Refuge

A view of the high country at Sheldon National Wildlife Refuge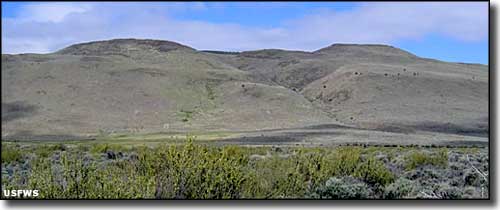 Looking across the Virgin Valley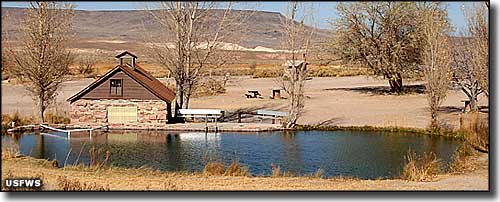 The Virgin Valley Campground with a hot springs-fed bath house and swimming pool
Sheldon National Wildlife Refuge
US Fish & Wildlife Service
Upper two photos and maps are courtesy of the US Fish & Wildlife Service
Other photos of Sheldon NWR courtesy of Marilyn Gregory, US Fish & Wildlife Service