Holly Springs National Forest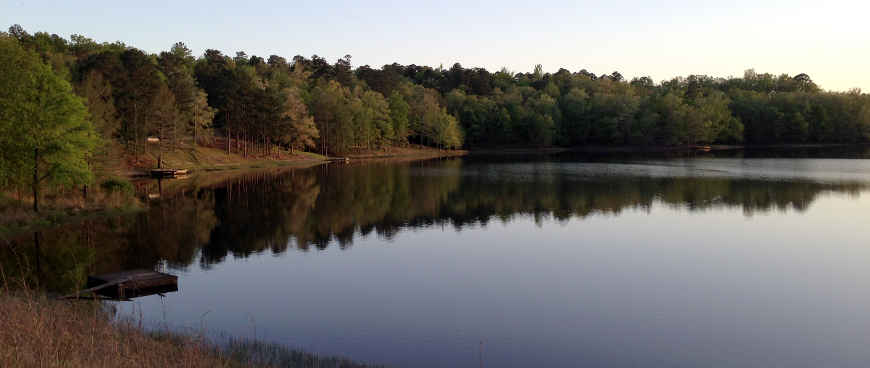 Puskus Lake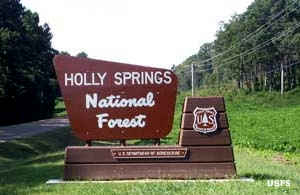 Holly Springs National Forest is a 155,661-acre property in two non-contiguous parcels in northern Mississippi. The Forest Service proclamation zone is significantly larger but that's because the Forest Service land is a patchwork of abandoned properties interspersed with privately held farms and ranches. The Forest was established in 1936, an amalgamation of abandoned, over-worked farmland that was being heavily eroded after decades of bad agricultural practices.
The Civilian Conservation Corps planted loblolly pine seedlings all over the place, in addition to building various facilities in the campgrounds and recreation areas. Loblolly pine seedlings were used because they were easy to transport and plant, they were suitable for the depleted soils they would be growing in and they dropped massive amounts of needles, which were good for controlling the erosion problem.
In 1983 the Reagan Administration proposed auctioning off the entire forest area as a means of raising money without raising taxes. He ended up cutting Health Services and Education and raised taxes any way.
Holly Springs Ranger District Recreation Areas
| Recreation Area | Features |
| --- | --- |
| Chewalla Lake Recreation Area | Camping, Swimming, Fishing, Hiking, Picnicking |
| North Cypress Non-Motorized Trail | Hiking, Biking, Picnicking, Horse Trail |
| Puskus Lake Recreation Area | Camping, Picnicking, Hiking, Fishing |
| Tillatoba Lake Recreation Area | Picnicking, Fishing |

Wolf River Swamp