Bienville National Forest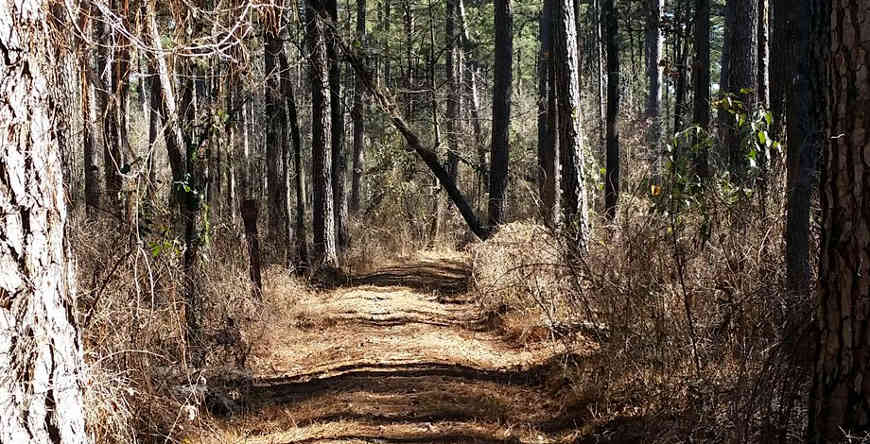 Along the Shockaloe National Recreation Trail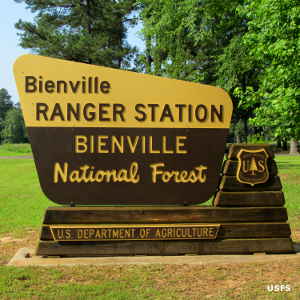 Bienville National Forest is a 178,541-acre property in east-central Mississippi. The forest is named for Jean-Baptiste le Moyne de Bienville, a French-Canadian soldier and explorer who founded Mobile, Natchez and New Orleans in the early 1700's.
Most of the land now included in Bienville National Forest was purchased directly from four large lumber companies: Adams-Edgar Lumber Company, Bienville Lumber Company, Eastman-Gardner Lumber Company and Marathon Lumber Company.
On the Coastal Plain, the landscape is quite flat. With the amount of clay in the soil, the ground tends to hold surface water longer than expected. Hikers in the area may want to carry waterproof boots and extra socks.
The crown jewel of Bienville National Forest appears to be the Marathon Lake Recreation Area, built on the site of the last Marathon Lumber logging camp (Marathon Lumber shut down in 1929). The campground was refurbished in 1994 and water and electric hookups and a dump station were added. Today, Marathon Recreation Area offers 34 developed campsites, a boat ramp, swimming area, 2 bath houses (with warm showers), picnic shelters, picnic tables and a hiking trail. Marathin Lake is regularly stocked with catfish, bass and crappie, in addition to the native population of bream.
Bienville National Forest is also home to the 23-mile Shockaloe Horse Trail, a National Recreation Trail open to both hikers and equestrians with developed base/horse camps along the way (neither camp is as fancy as Marathon Lake but they are fancy enough to serve the purpose). The trail is a loop with several interconnecting Forest Service roads that can be used to shorten the loop as needed.
The Bienville Pines Scenic Area is a 189-acre tract that contains the largest stand of old-growth timber in Mississippi. The Scenic Area is reached via a 2-mile hiking trail that gives visitors a chance to walk among 125-to-200-year-old Loblolly and shortleaf pines.
Amenities at Bienville National Forest
| Recreation Area | Features |
| --- | --- |
| Beaver Lake | Fishing, Boat Launch, Motorized Boating |
| Bienville WMA | Hunting, Viewing |
| Caney Creek WMA | Hunting, Viewing |
| Greentree Reservoir | Fishing, Boat Launch, Motorized Boating |
| Harrell Prairie | Botanical Viewing |
| Marathon Lake Recreation Area | Camping, Picnicking, Hiking, Swimming, Fishing, Motorized Boating |
| Office Trail | Interpretive Trail, Hiking, Biking |
| Shockaloe Horse Trail | National Recreation Horse Trail, Parking |
| Shockaloe Base Camp I | Horse Camp, Horse Trail, Parking, Picnicking |
| Shockaloe Base Camp II | Horse Trail, Parking, Picnicking |
| Shongelo Lake | Fishing, Hiking, Parking, Picnicking, Swimming |
| Tallahala WMA | Hunting, Viewing |
| Tishkill Lake | Fishing, Boat Launch, Motorized Boating |