Pine National Scenic River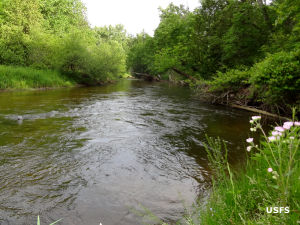 Elm Flats on Pine National Scenic River
The Pine River used to be known as the South Branch Manistee River. The river is 53 miles long but the National Scenic River section is only the lower 26 miles, before the river empties into the Manistee River. The entire section is in Huron-Manistee National Forest.
One of the primary recreational uses of Pine River is canoeing and kayaking as the average gradient of the river is 7%, making for fast water and light rapids, the fastest average flow for any river in lower Michigan.
Within the designated scenic portion of the river is a unique riparian landform with high exposed sandy banks on both sides of a deeply cut river channel. Trees in lower areas include cedar, hemlock, elm, ash, red and sugar maple and basswood while the more upland regions are covered in aspen, pine and mixed oak. Many areas along the stream are open and provide diverse habitat for the many species of wildlife in the forest.
Most folks visit the area for fishing or hunting purposes. Some come for the hiking, some for the camping, some for the boating. Reservations are required before putting watercraft in the river: there is a strict limit on boats per day on the river. Use of any developed areas or sites requires payment of the appropriate Recreation Enhancement Act fees.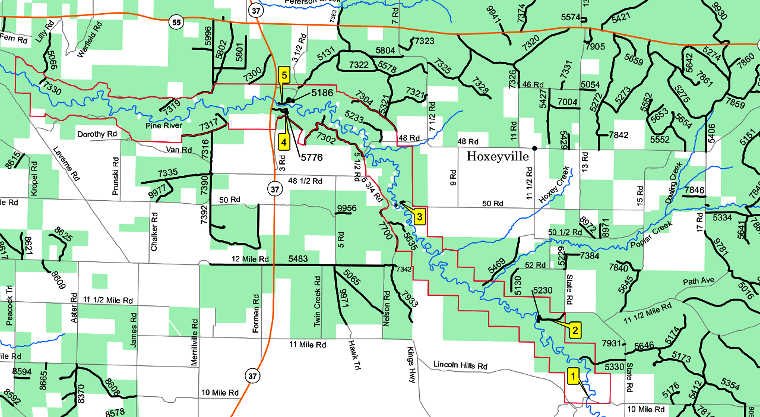 Pine National Scenic River map
Pine National Scenic River
Huron-Manistee National Forest

Photo and map courtesy of the US Forest Service