Pere Marquette National Scenic River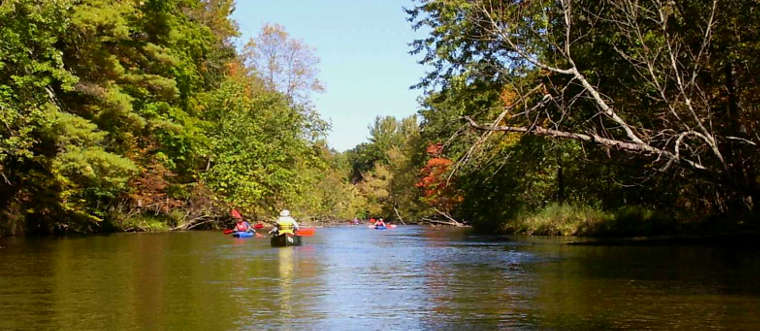 Canoers on the Pere Marquette National Scenic River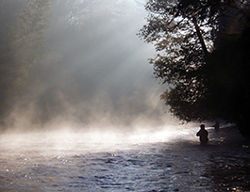 Fishing the Pere Marquette
At 66 miles long, the Pere Marquette is the longest unregulated stream in Lower Michigan. Congress designated the Pere Marquette National Scenic River in 1978, the same year Michigan declared the Pere Marquette and all its major tributaries a Michigan Natural River. The river is extremely popular as a float destination but also for its world-class trout, steelhead and salmon fishery.
The original native fish in the river was the grayling but in the deforestation that happened after the Great Chicago Fire, the grayling disappeared from the stream. Rainbow trout were first added to the river in 1876. Then in 1884, the imported German brown trout was first released in North America on the Baldwin River, a major tributary of the Pere Marquette.
The mainstream begins at the confluence of the Little South Branch and Middle Branch (The forks) south of Baldwin and continues until the river empties into Pere Marquette Lake, near the city of Ludington. The National Scenic River designation applies to that section of the mainstream between The Forks and Highway 31 south of Scottville.
From M-37 to Gleason's Landing, fishing in the river is catch-and-release, flies only. From Memorial Day Weekend through Labor Day Weekend every watercraft on the river needs a permit. Camping within Huron-Manistee National Forest along the river corridor is allowed only at designated camping areas. Camping areas range from developed campgrounds to primitive sites to canoe-in only sites. All camping requires payment of the fees instituted under the Recreation Enhancement Act. So does all use of Forest Service river access points and parking areas. The Forest Service does keep all parking areas along the river plowed so winter access is no big deal.
Within the National Forest the river is segregated into three sections for administrative and watercraft-control purposes. Those three sections: The Forks to Bowman Bridge, Bowman Bridge to Upper Branch Bridge and Upper Branch Bridge to Walhalla Bridge. The number of watercraft permits allowed varies by day of week and section of river with permits being divided between the public and two permitted liveries along the river.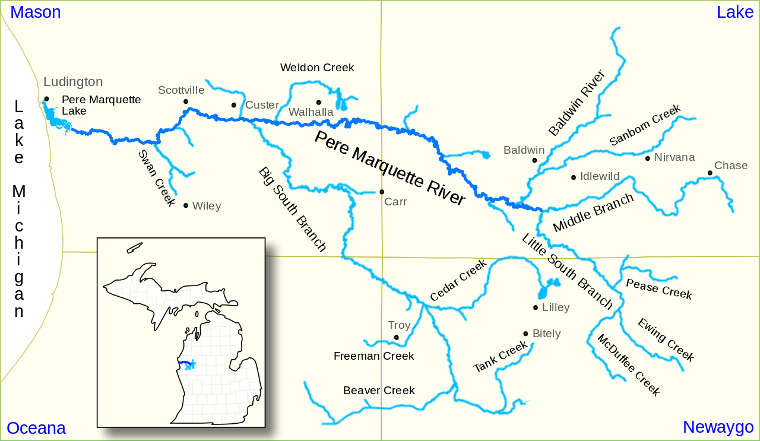 Pere Marquette National Scenic River map
Pere Marquette National Scenic River
Huron-Manistee National Forest
Upper photo courtesy of Wikipedia userid Yetiwriter,
CCA-by-SA 3.0 License
Upper left photo courtesy of Frank Willetts of Pere Marquette River Lodge, via rivers.gov
Map is in the public domain