Monocacy National Battlefield

Best Farm, Monocacy National Battlefield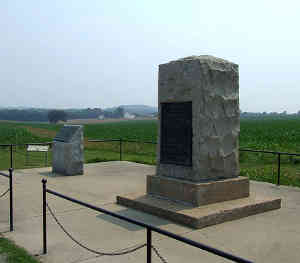 Monuments at Monocacy National Battlefield
Monocacy was the site of a Civil War battle on July 9, 1864. The battle came about as part of a bold Confederate plan to take the war out of Virginia back into Union territory.
Confederate General Jubal Early had been moving his core of about 15,000 troops down through the Shenandoah Valley and headed for Frederick, MD. From Frederick he wanted to move east, then south to attack and take Washington from the north. Agents of the Baltimore & Ohio Railroad heard of the Confederate troop movements and passed the message along until it reached Union Major General Lew Wallace in Baltimore.
Wallace quickly organized about 6,550 men at Monocacy Junction to try to slow the Confederate advance. In the end, he and his men lost the battle but succeeded in their mission by holding the Confederates up for one crucial day while reserves were rushed to Washington and the element of surprise went out the window.
Early left Frederick and took his troops back to Virginia the next day. There was not another battle fought on Northern soil for the rest of the war. The battle was soon proclaimed "The Battle That Saved Washington."
Today's Monocacy National Battlefield is comprised of about 1,647 acres of forest, farm land and riparian zones in an area a few miles south of Frederick. The Park is composed of six properties: the Baker, Best, Lewis, Thomas and Worthington Farms plus the Gambrill Mill and House.
The site of the battle was in private hands for more than 100 years after the last shot was fired. Congress finally passed a bill in 1964 to create the national battlefield but it wasn't until the late 1970's that funds were appropriated and some of the site purchased. The Thomas Farm, scene of the heaviest fighting, wasn't purchased until 2001. Meanwhile, Interstate 270 was constructed right across the battlefield in the 1960's and was widened in the 1980's.
The original visitor center was located in the Gambrill Mill for years, until the National Park Service built a new visitor center on the west side of the Monocacy River. A visitor has the choice of several walking trails that lead across the various properties that make up the Battlefield. The property is open from 7 am to sunset, year round. The visitor center is open every day from 9 am to 5 pm, except closed on Thanksgiving, christmas and New Year's Days. The park is day-use only and there are no fees involved.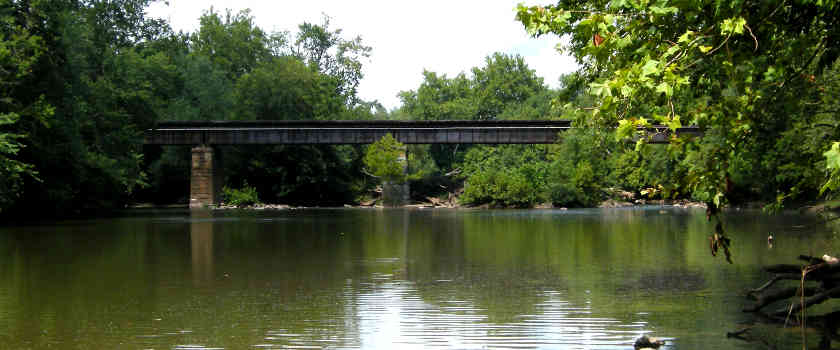 Railroad bridge over the Monocacy River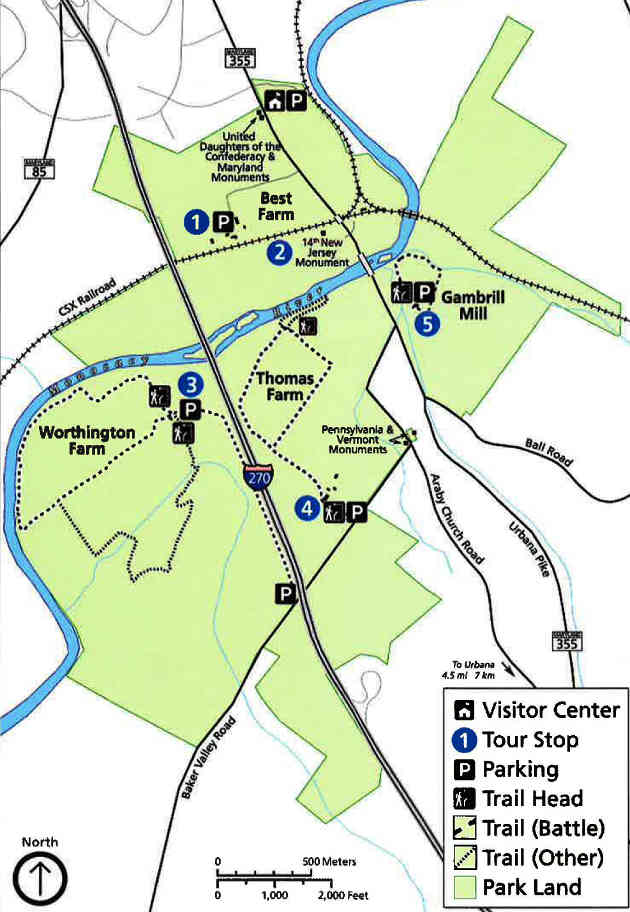 Monocacy National Battlefield
National Park Service
Upper left photo courtesy of Bob Carney,
CCA 2.0 License
Lower photo courtesy of Wikipedia userid Plazak,
CCA-by-SA 4.0 License
Upper photo and map courtesy of the National Park Service