St. Croix Island International Historic Site

St. Croix Island International Historic Site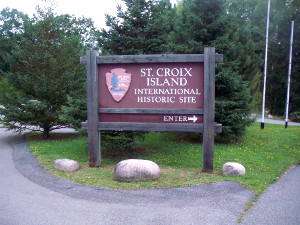 In the winter of 1604-1605, Pierre Dugua's French expedition came ashore on St. Croix Island. They ended up trapped there by freezing temperatures that iced over the river and left them unable to reach fresh water or game. 35 of the 79 men died over the next few months, most likely of scurvy. When spring finally arrived, the Passamaquoddy returned to the area and stopped by to trade game for bread. That saved the men who survived. Later that spring when the ice broke up on the river, they left. There was a cemetery but no permanent settlement built, no industry, no docks. This was the first French expedition to the New World that was intent on staying, somewhere. Next place they spent any time eventually became Port Royal, Nova Scotia, and there, the French settlement of Acadia was begun.
Today, there is no public access to St. Croix Island itself. There is a National Park Service facility with parking area, interpretive trail, shelter, pathways and restrooms on the mainland directly across from the island. Parks Canada operates a similar facility on the New Brunswick side of the river. The island itself is managed under a joint agreement between Parks Canada and the National Park Service.
The facility is open during daylight hours year-round but the entrance gate is open only from mid-April to November. The visitor center is open from mid-May to the end of June from 9 am to 5 pm, closed Tuesdays and Wednesdays. In July and August the visitor center is open daily from 10 am to 6 pm. From the first of September to mid-October the visitor center is open daily from 9 am to 5 pm. Services are limited in winter and the statues and displays along the interpretive trail are covered to protect them from the weather. There are no fees involved.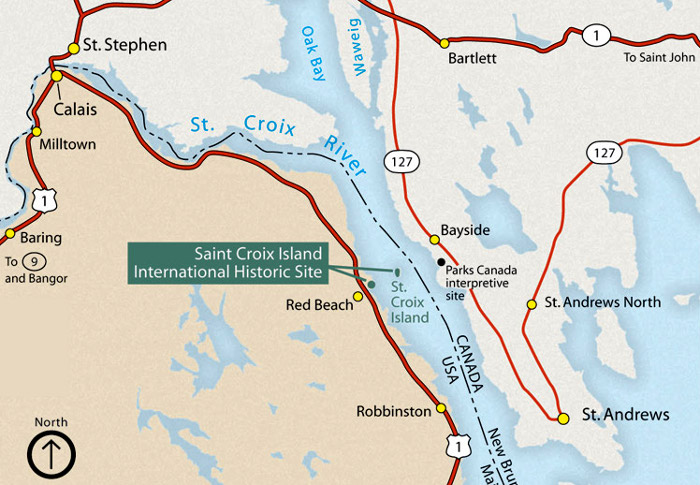 St. Croix Island International Historic Site location map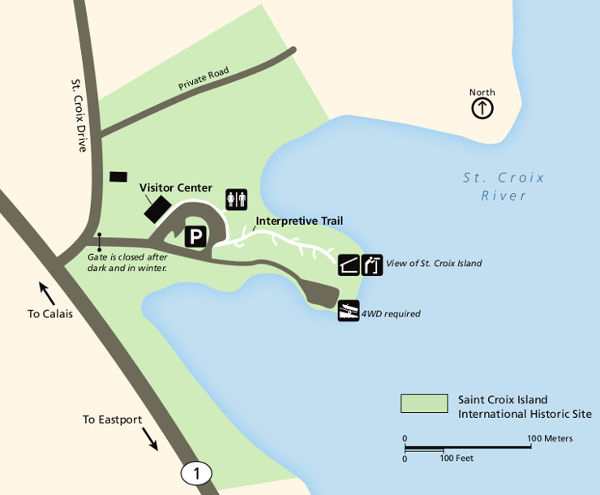 St. Croix Island International Historic Site
84 St. Croix Drive

, PO Box 247,

Calais

,

ME

04619
207-454-3871
Upper left photo courtesy of Wikipedia userid SarekofVulcan,
CCA-by-SA 3.0 License
Other photos and maps courtesy of the National Park Service