Rachel Carson National Wildlife Refuge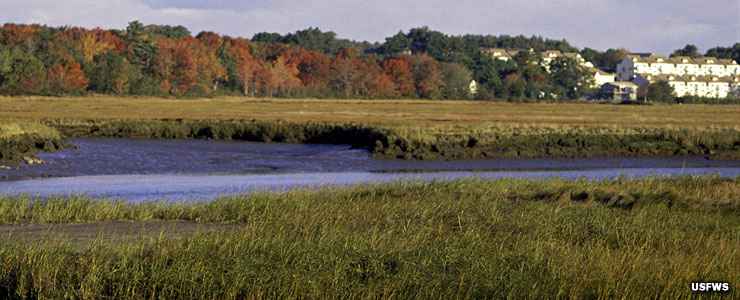 Rachel Carson National Wildlife Refuge
Rachel Carson National Wildlife Refuge consists of eleven different parcels of land spread along 50 miles of the Maine coast, between Kittery and Cape Elizabeth in York and Cumberland Counties. Rachel Carson NWR was established in 1966 to protect valuable estuaries and tidal salt marshes for migratory and resident birds. When land acquisition is complete, the property will contain about 14,600 acres.
Located as it is along the dividing line between boreal forest and eastern deciduous forest, Rachel Carson National Wildlife Refuge contains a mix of plants and animals found nowhere else on the East Coast. Major habitat types include coastal meadows, barrier beach and dune, tidal salt marsh, forested upland and the famous rocky coast of Maine. The division of habitat is roughly 55% uplands, 10% freshwater wetlands and 35% tidal wetlands.
There are four developed hiking trails on the units of Rachel Carson National Wildlife Refuge. The property is open to the public (unless signs are up indicating that something is closed) from sunrise to sunset, every day of the year. The Refuge Headquarters in Wells is open from 8 am to 4:30 pm Mondays through Fridays, except on Federal holidays. No entrance fee is charged. Pets are allowed only on the Carson Trail in Wells. Camping and campfires are always prohibited.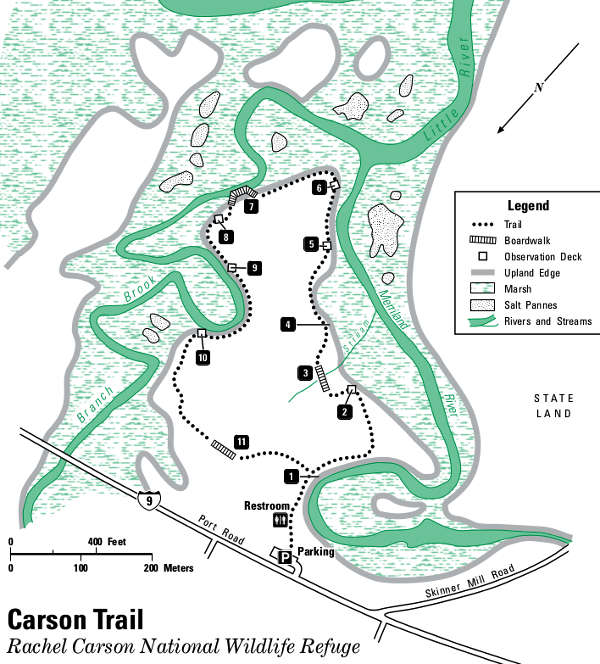 Map of the Rachel Carson Trail area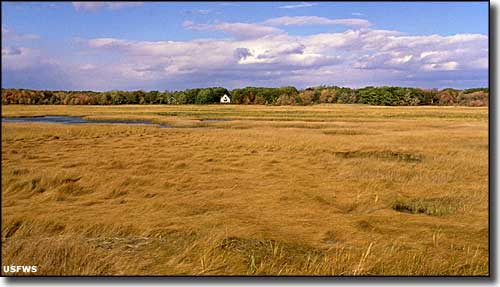 Tidal wetlands at Rachel Carson National Wildlife Refuge
Rachel Carson National Wildlife Refuge

Photos and trail map courtesy of the US Fish & Wildlife Service