Kirwin National Wildlife Refuge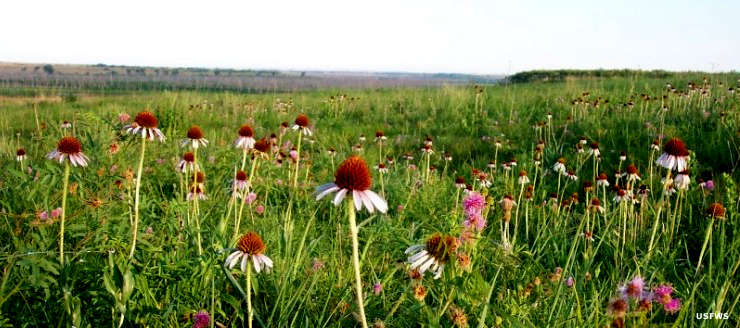 Tallgrass prairie at Kirwin National Wildlife Refuge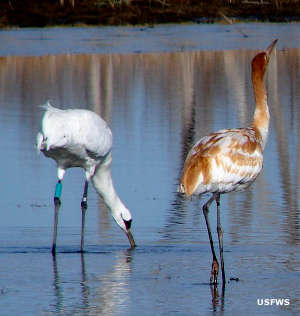 Whooping cranes at Kirwin NWR
Kirwin National Wildlife Refuge is a 10,778-acre property in north-central Kansas. The refuge was established in 1954 as an overlay on land upstream from the newly created Kirwin Reservoir. Along the North Fork of the Solomon River, this is that part of America where the tallgrass prairies of the east and shortgrass prairies of the west come together. In the overlapping of those habitats there is a very diverse array of flora and fauna. More than 300 species of birds have been identified on the refuge at one time or another. A good spring or fall migration season can see up to a million migratory birds passing by. The are four Federally listed and two state listed threatened or endangered avian species that use the refuge. There are another 28 species of conservation concerned birds, too.
The landscape is a mix of wooded riparian zones, grasslands, wetlands, open water, shorelines and agricultural croplands. The croplands are managed through a cooperative farming program and grow milo, corn and wheat. About 10% of each crop is left for the birds but that also cuts down on the depredation of other croplands in the area. Refuge staff also use tools like grazing, prescribed fire, haying, mowing and brush control to improve the habitat for the birds and other wildlife, migratory and resident.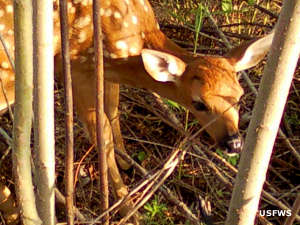 Kirwin National Wildlife Refuge is a day-use only property, open daily from sunrise to sunset every day of the year, unless areas are seasonally closed to give the birds and wildlife some peace and quiet. Camping, campfires, fireworks, dog training, loose pets, target shooting and vehicles off the designated roads are prohibited. Speed boating, personal watercraft, waterskiing, swimming and commercial operations of any sort (especially guiding) are also prohibited. Hunting and fishing are allowed, subject to the usual Federal, state and refuge-specific regulations.
The Kirwin National Wildlife Refuge office and visitor center are open Mondays through Fridays, 7:30 am to 4 pm except for Federal holidays. There are no entry fees involved. The refuge offers an auto tour route and several hiking trails. There is a half-mile hard-surfaced wildflower trail near Crappie Point on the south side of the refuge. There's also a quarter-mile trail running through Prairie Dog Town, affording visitors a good look at the ecosystem that exists around prairie dog colonies.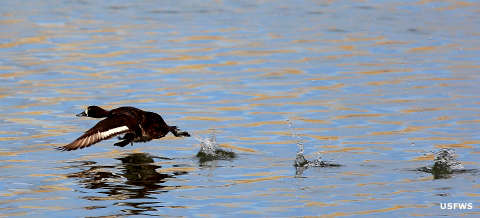 A duck taking flight on Kirwin National Wildlife Refuge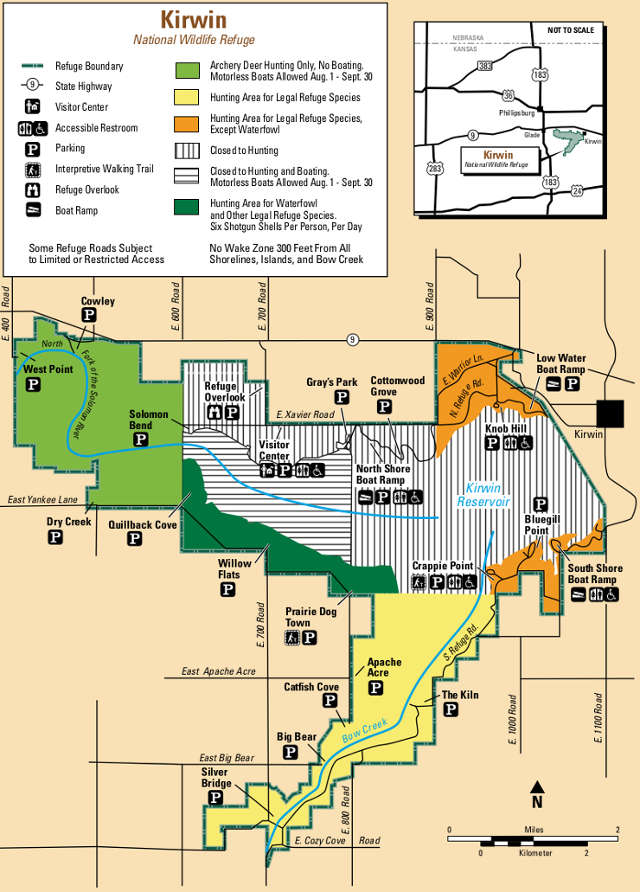 Kirwin National Wildlife Refuge map
Kirwin National Wildlife Refuge
Photos and maps courtesy of the US Fish & Wildlife Service