Gypsum Hills Scenic Byway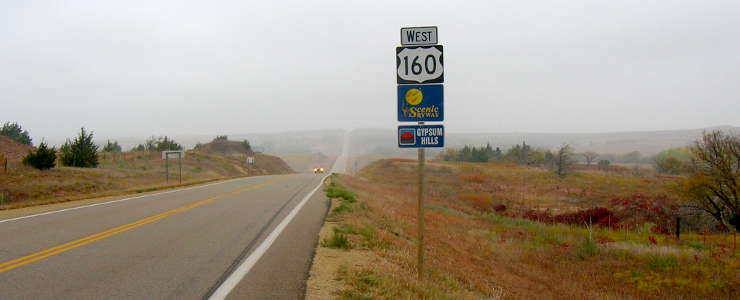 Near Coldwater on the Gypsum Hills Scenic Byway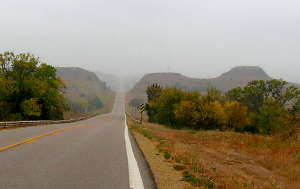 I drove the length of the Gypsum Hills Scenic Byway in early November, 2012. As luck would have it, the day was bleary, windy and sometimes rainy. It was still a beautiful drive in an area with very little traffic. I wish my camera had done a better job of collecting the scenery: the photos don't really do the colors and the views justice... but it was pretty foggy at times.
The Gypsum Hills Scenic Byway is a 42-mile route along US Highway 160 between the western city limits of Medicine Lodge and the junction with US Highway 183 just north of Coldwater. The route bisects the Gypsum Hills, an area of flat mesas, red soils, sharp high hills, deep canyons and caprock formations. This is an area where two of Kansas most picturesque landscapes come together: the Red Hills and the High Plains.
The Red Hills is a region of rugged gypsum-capped shale mesas and buttes with little or no vegetation. The High Plains is characterized by mid-grass prairies and rolling farm lands. You're liable to see masses of wildflowers along the Gypsum Hills Scenic Byway in the spring and summer. The color spectrum is enhanced by the green cedars, red soils and naturally flowing springs that dot the region.
The Gypsum Hills were laid down when this area was at the bottom of a shallow inland sea some 260 million years ago. The brick-red layers of sandstones, shales and siltstones interbedded with gypsum and grayish dolomite have been exposed by millions of years of wind and water erosion since then. Some of the gypsum deposits are pure enough and large enough to be mined. Dissolution of the gypsum has resulted in numerous caves in the area, some of which are now called home by colonies of Brazilian Free-tail bats.
The Indian Peace Treaty and Celebration happens every three years in Medicine Lodge. Swimming, hunting, fishing, boating, spelunking, hiking, bird-watching, trail riding and backpacking are available nearly all year round.
If you want to try a more primitive route, the Gypsum Hills Wildlife Drive runs south from Buster across the Scenic Byway, down into the valley of the Salt Fork of the Arkansas, then turns east to climb out of the valley and end in Hardtner. There's a couple old ghost towns along the way and lots of opportunities to check out the wildlife.
Views along the Gypsum Hills Scenic Byway: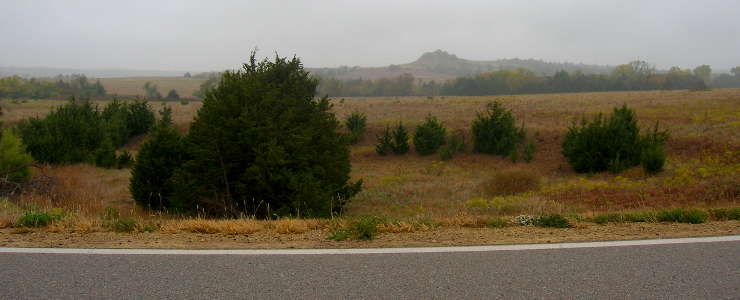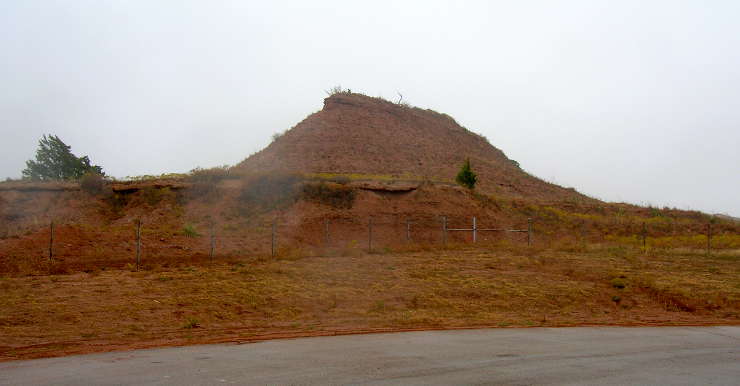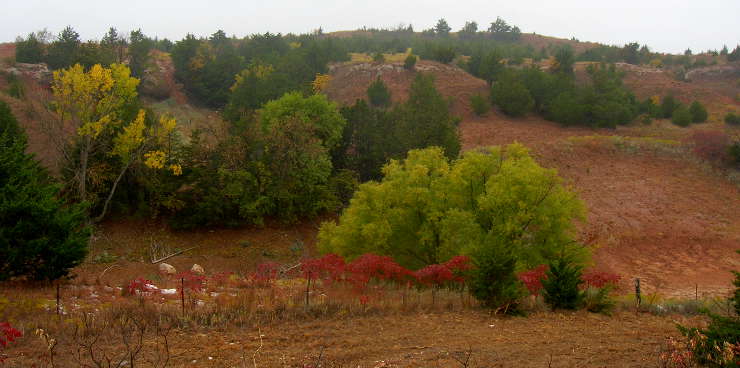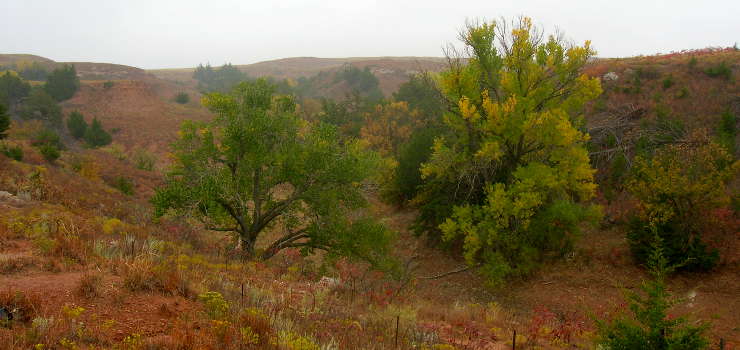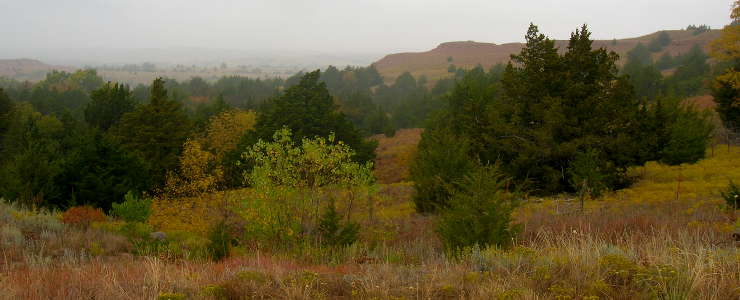 Gypsum Hills Scenic Byway