Fort Larned National Historic Site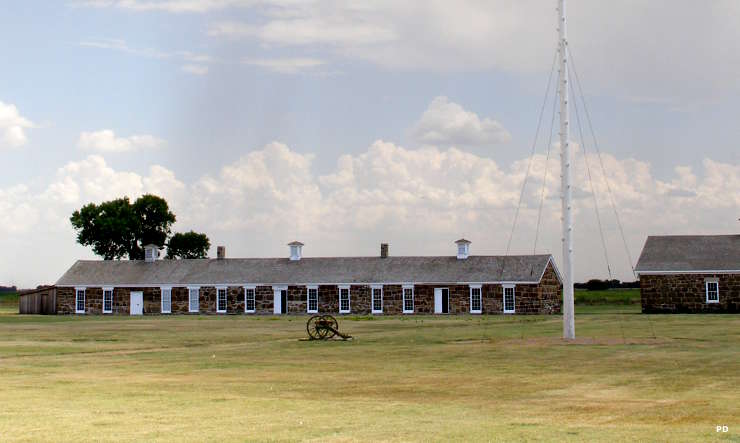 Fort Larned National Historic Site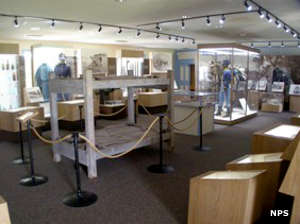 The Site Museum
Fort Larned National Historic Site is a 718-acre property located about 6 miles west of Larned, Kansas. Fort Larned was established in 1859 for the purpose of guarding travelers on the Santa Fe Trail from hostile Native Americans. The fort was decommissioned in 1878 after all the tribes had been confined to reservations and the Santa Fe Trail had been superseded by the railroads. During those years troops stationed at Fort Larned participated in a number of actions that basically violated every agreement ever signed between the tribes and the US Government.
From 1867 to 1869, Fort Larned was home to the US 10th Cavalry, one of two African-American cavalry units in the Army. As much as they distinguished themselves for bravery and toughness in combat, their stables were burned to the ground on January 2, 1869. That killed dozens of horses, destroyed most of their equipment and caused the unit to be transferred to Fort Zarah. It's quite possible the fire was a case of racially motivated arson.
From 1885 to 1966 the fort served as the headquarters of a large cattle ranch with the commanding officers house housing the ranch owners and the officers quarters housing the ranch hands. In 1966 the buildings were added to the National Register of Historic Places after being designated a National Historic Site in 1964.
Today, what we see is the best preserved (and most restored) example of an Indian Wars-period frontier military fort. The site offers nine historic buildings to tour, most filled with period furnishings. Summer brings living history demonstrations and ranger-guided tours to the fort. Fort Larned National Historic Site is open daily from 8:30 am to 4:30 pm, closed on all Federal holidays except Memorial Day, July 4th and Labor Day. Entry is free to all.

An aerial view of Fort Larned National Historic Site
Fort Larned National Historic Site
1767 Kansas Highway 156

,

Larned

,

KS

67550-9321
Photos are courtesy of the National Park Service