Brown v. Board of Education National Historic Site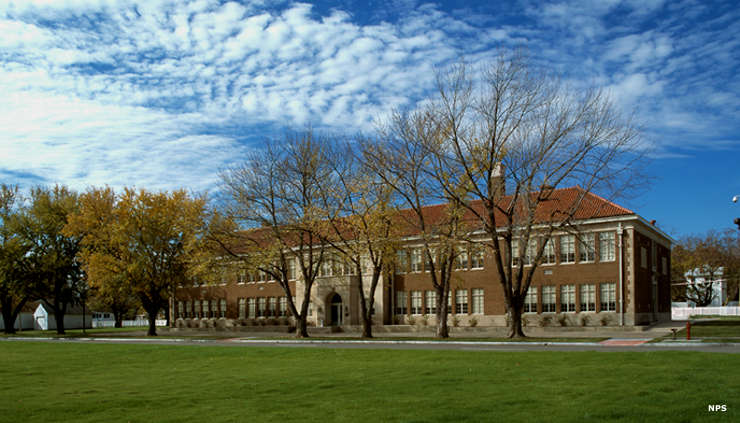 Brown v. Board of Education National Historic Site
The Brown v. Board of Education National Historic Site is a 1.85-acre property that contains Monroe Elementary School and the adjacent grounds. The site is famous as it was a racially segregated school that spawned a lawsuit that went all the way to the US Supreme Court. The case was consolidated with four others by the Justices and the decision passed down by them changed education in America. The argument wasn't about any differences between the quality of the shools, the textbooks, the teachers or what the teachers taught. The argument was about the difference in real world opportunities that might come about simply because African-Americans were forced to attend racially segregated schools.
Within a few years of that 1952 decision, racial segregation in American classrooms themselves was over, although segregation in busing and sports took a few more years to be finished. It had taken several years for the National Association for the Advancement of Colored People to steer all five of these cases to the Supreme Court and in deciding these cases as they did, the Supreme Court demonstrated its ability to influence the dialog of national and social policies.
Today, Monroe Elementary is a museum and exhibition hall of African-American social progress since the end of the Civil War. Brown V. Board of Education National Historic Site is one of 26 National Park Service sites recognized by the African-American Experience Fund for its promotion and celebration of African-American history and culture.
The Brown v. Board of Education National Historic Site is open from 9 am to 5 pm every day except Thanksgiving, Christmas and New Year's Days. There are no entry fees involved.

Monroe Elementary School at night
Brown v. Board of Education National Historic Site
1515 Southeast Monroe Street

,

Topeka

,

KS

66612-1143
785-354-4273
Photos courtesy of the National Park Service