Port Louisa National Wildlife Refuge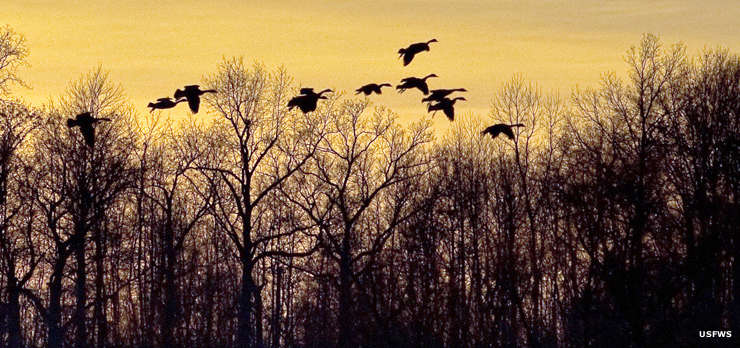 Birds in flight above Port Louisa National Wildlife Refuge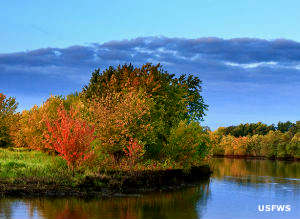 Port Louisa National Wildlife Refuge protects 8,375 acres of land located along the Mississippi River and another 10,000 acres in the Iowa River Corridor. The refuge is divided into four divisions: Horseshoe Bend, Louisa and Big Timber in Iowa, and Keithsburg in Illinois. In the 1940's this area was part of an agricultural levee district that slowly came to be managed more and more by US Fish & Wildlife. Finally, the property was separated and became Port Louisa National Wildlife Refuge in 1958.
The four original refuge districts are all wetlands areas along the Mississippi, wetlands with a bit of uplands habitat. The 10,000 acres in the Iowa River Corridor are former farmlands that have been allowed to return to its original habitat: grassland, oxbow wetlands, wet meadow and bottomland forest interspersed with scrub and shrub openings. All areas are in the busy Mississippi Flyway and see a lot of avian visitors during the spring and fall migration seasons. More than 278 species of birds have been documented on the property and millions of birds pass through every year.
The refuge offers a three-mile hiking trail between the refuge office and the Muscatine Slough observation deck. The Horseshoe Bend division offers mowed service roads as seasonal trails. Adjacent to the refuge is the Odessa Wildlife Management Area, an area offering great opportunities for canoeing and kayaking. The main Odessa Water Trail runs through some of Port Louisa National Wildlife Refuge. Something to be aware of is water levels that vary greatly through the year and with rainfall/snowmelt levels far upstream. The Flood of 1993 and the Flood of 2008 damaged certain sections of the refuge and left behind a lot of dead snags where mature trees used to be.
The Port Louisa National Wildlife Refuge office is open from 7:30 am to 4 pm Mondays through Fridays except for Federal holidays. The land is generally open from sunrise to sunset every day of the year, although some sections are closed at specific times to afford migratory birds some peace and quiet. There are no entry fees involved. The Louisa and Keithsburg Divisions are closed from September 15 to January 1. The Horseshoe Bend Division is closed from September 15 to December 1.
Camping, campfires, trapping and taking frogs or turtles on refuge property is not allowed. Biking and hiking are allowed on all refuge roads unless otherwise posted. Vehicle use off-road is prohibited. Mushroom and berry picking are allowed but for personal consumption only. Hunting and fishing are allowed, subject to federal, state and refuge regulations.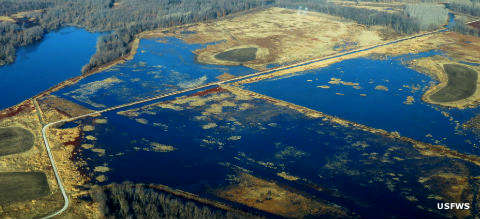 Aerial view of Port Louisa National Wildlife Refuge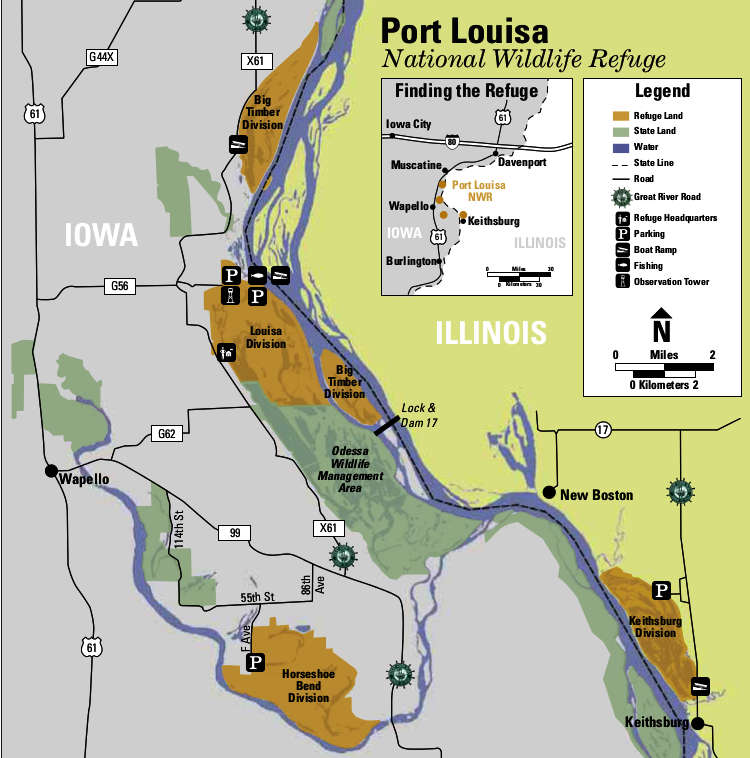 Port Louisa National Wildlife Refuge
Upper photo courtesy of Paula Scherbroeck, US Fish & Wildlife Service
Other photos and maps courtesy of the US Fish & Wildlife Service