Neal Smith National Wildlife Refuge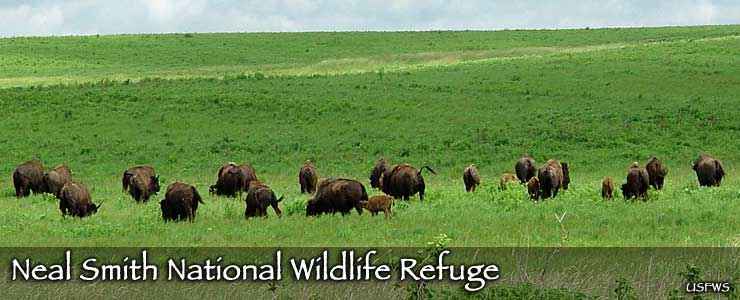 Neal Smith National Wildlife Refuge
Neal Smith National Wildlife Refuge was established in 1991 as Walnut Creek National Wildlife Refuge. Originally authorized as an 8,600-acre property, the Refuge presently contains 5,366 acres in the Walnut Creek watershed. The objective of Neal Smith National Wildlife Refuge is to restore the property to its original state as high-diversity tallgrass prairie. The land itself is a rolling tallgrass prairie with oak savannas bisected by Walnut Creek. Refuge staff work to enhance this rare habitat for endangered species and native wildlife. To that end, bison were reintroduced to the property in 1996 and elk were reintroduced in 1998.
Neal Smith National Wildlife Refuge is a designated Land Management and Research Demonstration Area. That means Neal Smith NWR is used to develop, test, teach, publish and demonstrate state-of-the-art land management techniques used to restore the highly-degraded tallgrass prairie ecosystem. The Visitor Center also includes the Prairie Learning Center with a theater, exhibit area, bookstore and classrooms. Paved trails radiate in all directions from the Visitor Center, although if you want to visit the 800-acre drive-through bison enclosure, you'll need to be in a closed vehicle.
To get there: Neal Smith National Wildlife Refuge is located about 18 miles east of Des Moines, off State Highway 163. From Interstate 80, get off the highway at exit 155 (Colfax) and go south about 7 miles on Highway 117 to the refuge. Refuge headquarters is open from 8 am to 4:30 pm, Monday through Friday (except Federal holidays). The Visitor Center is open Monday through Saturday from 9 am to 4 pm and from noon to 5 pm on Sunday (except for Thanksgiving, Christmas and New Year's Day). Everything else on the property is open from sunrise to sunset, every day of the year. There is no entrance fee.
The 3,600-acre property at the core of Neal Smith National Wildlife Refuge was originally owned by Iowa Power and Light. Their intent was to build a nuclear power plant on it. When those plans fell through, US Fish & Wildlife bought the land and has been adding to it ever since. A couple years after being established as Walnut Creek NWR, the name was changed to honor Congressman Neal Edward Smith, the man who pushed the plan through Congress.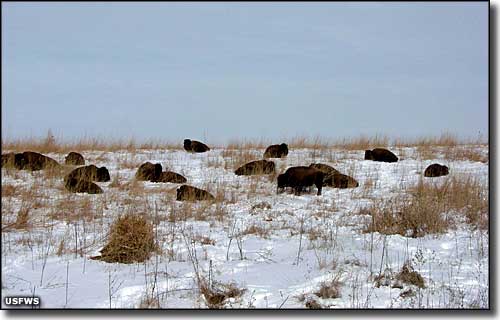 A winter scene in the bison enclosure
Neal Smith National Wildlife Refuge
Photos courtesy of the US Fish & Wildlife Service