Herbert Hoover National Historic Site

Herbert Hoover National Historic Site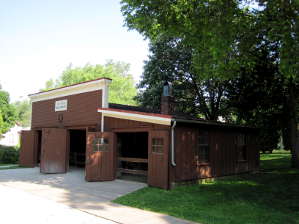 The Jesse Hoover Blacksmith Shop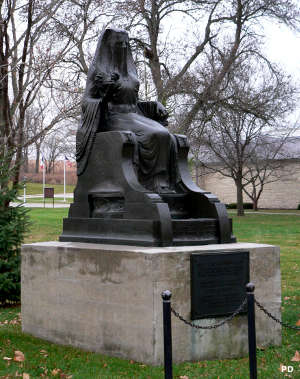 Auguste Putteman's statue of Isis
given to Herbert Hoover by the
government of Belgium
Herbert Hoover National Historic Site is a 186-acre property that preserves and protects the places where President Herbert Hoover was born and lived until the age of 9. That was when he was orphaned and sent to live with a nearby uncle, then sent to live with another uncle in Oregon two years later. What you'll find at the Herbert Hoover National Historic Site is the record of a man who was born a relative commoner and grew through faith, education, family and hard work to become a mining engineer, a statesman, humanitarian and eventually, President of the United States.
Preserved on the property is the two-room cottage Hoover was born in. Nearby is a reconstruction of the blacksmith shop his father built and operated. The site also features several other buildings from the time of Hoover's childhood and several sculptures that were brought to the site from other places where Herbert Hoover lived during his life. Hoover had originally planned to donate all his papers and documents to his alma mater (Stanford University) but relations between him and the university soured in the 1950's. That led to construction of the Herbert Hoover Presidential Library and Museum on the grounds of the National Historic Site. The museum is the only place on the property where an entrance fee is charged. Hoover and his wife, Lou Henry Hoover, are also buried on the site.
The grounds of Herbert Hoover National Historic Site are always open but the buildings are only open from 9 am to 5 pm, every day of the year except Thanksgiving, Christmas and New Year's Days. Except for the Presidential Museum, access to everything is free.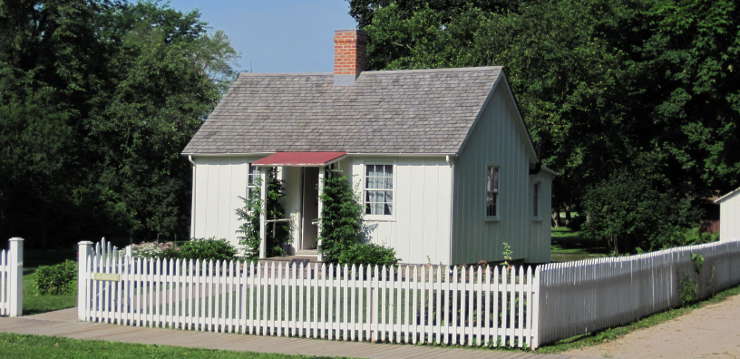 The birthplace of President Herbert Hoover
Herbert Hoover National Historic Site
Upper photo courtesy of the National Park Service
Lower right photo is in the public domain
Other photos courtesy of Bill Whittaker,
CCA-by-SA 3.0 License