DeSoto National Wildlife Refuge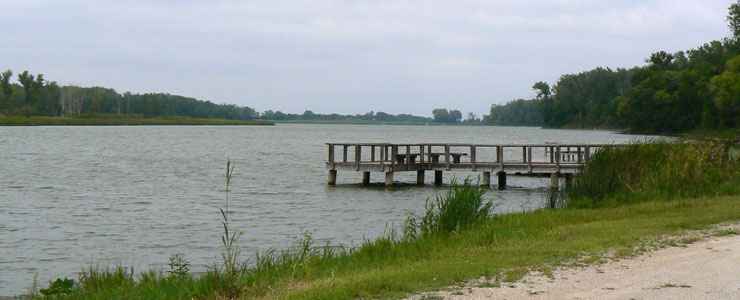 DeSoto Lake at DeSoto National Wildlife Refuge
DeSoto National Wildlife Refuge is an 8,358-acre property on the eastern banks of the Missouri River in western Iowa and eastern Nebraska. This is the Missouri River Valley floodplain and the refuge contains DeSoto Lake, a large, former meander of the Missouri River.
About 250,000 visitors per year make the trip to DeSoto National Wildlife Refuge to partake in the recreational amenities or just to observe the spring and fall bird migrations. Being in the Central Flyway, DeSoto NWR caters to the incoming duck and geese populations. To this end, neighboring farmers still plant and harvest crops on about 1,300 acres of the property, leaving a portion of the crop behind as a supplementary food source for migratory birds and local wildlife. Once upon a time this property was all homesteaded and converted to farming purposes. Since the refuge was established in 1958, more than 1,500 acres of those former agricultural fields have reverted to being native high-diversity prairie and forested bottomland. Another large chunk of the property is contained in two moist soil units of permanent and seasonal wetlands.
DeSoto National Wildlife Refuge offers 12 miles of paved and gravel roads to the public. These roads pass by woods, grasslands, DeSoto Lake, freshwater ponds and the Missouri River. There are also five maintained hiking trails, including the Missouri Meander Trail, a 0.2-mile paved, universally accessible trail adjacent to the Visitor Center. Once you cross the footbridge, the graveled trail then leads for another 7/8-of-a-mile through the woods and along DeSoto Lake.
The sternwheeler steamboat Bertrand sank in the Missouri River in 1865. In 1968, the wreck was discovered in a pond on the Refuge. In 1969 it was excavated and more than 200,000 recovered Civil War era artifacts are now on display in the Bertrand Museum, part of the DeSoto Visitor Center. Also in the Visitor Center are interpretive displays related to the natural history of the Missouri River Basin and to the historical human development of the area and the ecological impact of that development. The Visitor Center is open daily (except Federal holidays) from 9 am to 4:30 pm.
To get there: most folks get off Interstate 29 at mile marker 75 and take US Highway 30 west for six miles to the refuge entrance. The Visitor Center is another mile into the property.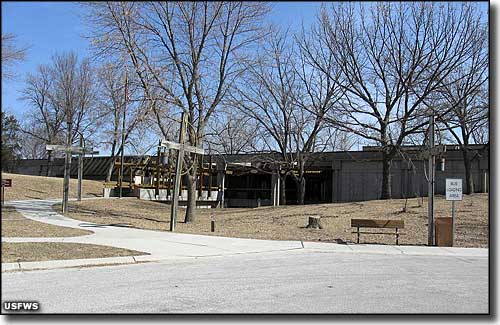 The DeSoto NWR Visitor Center and Bertrand Museum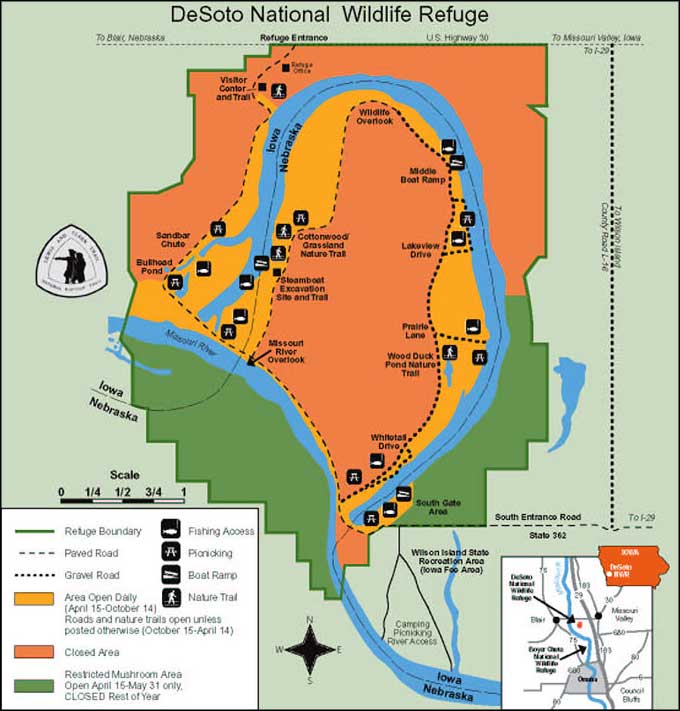 Desoto National Wildlife Refuge
1434 316th Lane

,

Missouri Valley

,

IA

51555-7033
712-642-4121
Photo of the museum at Desoto NWR courtesy of Bill Whittaker,
CCA-by-SA 3.0 License
Upper photo and map courtesy of the US Fish & Wildlife Service