St. Anthony Sand Dunes Special Recreation Management Area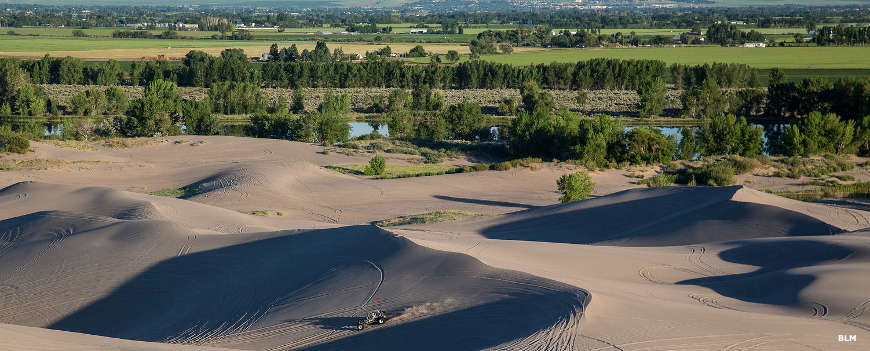 St. Anthony Sand Dunes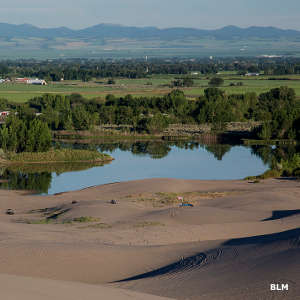 The St. Anthony Sand Dunes Special Recreation Management Area covers some 10,000 acres about 50 miles northeast of Idaho Falls. About half the property is part of the Sand Mountain Wilderness Study Area, a zone where travel is done on foot or horseback only. As most of the area was long a favorite place for OHV enthusiasts, this recent designation has caused some small amount of conflict. However, as the WSA has not yet been designated as a Wilderness by Congress, certain liberties are still allowed. For folks who like riding their OHVs here, the advice is to stay on the open sand and stay off the vegetated areas. You can also travel the roads and trails that are signed as "Designated Routes." To trample the vegetation or to use unmarked routes for motorized travel is to take the chance of forcing the whole Wilderness Study Area to be closed to all motorized traffic.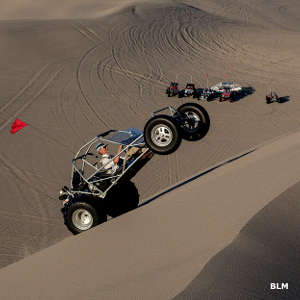 It is also illegal to possess or use any glass container or cup within the boundaries of the WSA for any reason whatsoever (whether empty or not). Certain portions of the WSA see seasonal closures in effect (either from January 1 to April 1 or January 1 to May 1). Take special caution when riding in the area of Egin Lakes (children and sunbathers abound) and the area on the south side of Hidden Lake is always closed to motorized traffic.
The dunes rise as much as 425 feet in some areas. The countryside around them is covered with a mix of sagebrush and juniper. The area is special in that about 2,500 elk, 1,500 deer and hundreds of sharptail and sage grouse think this is prime real estate for living and raising their kids on. There are two private areas on the north and northwest side of the St. Anthony SRMA that are private elk ranches. The Juniper Buttes on the north side of the SRMA are extinct volcanoes.
Camping and campfires are allowed in the designated dispersed-use areas along Red Road and at Egin Lakes Campground. Egin Lakes Campground offers 48 developed campsites, including 28 with electric service. Sites are available first come, first served. There are two other private campgrounds nearby which also allow dune access. No other camping is allowed on the property.

St. Anthony Sand Dunes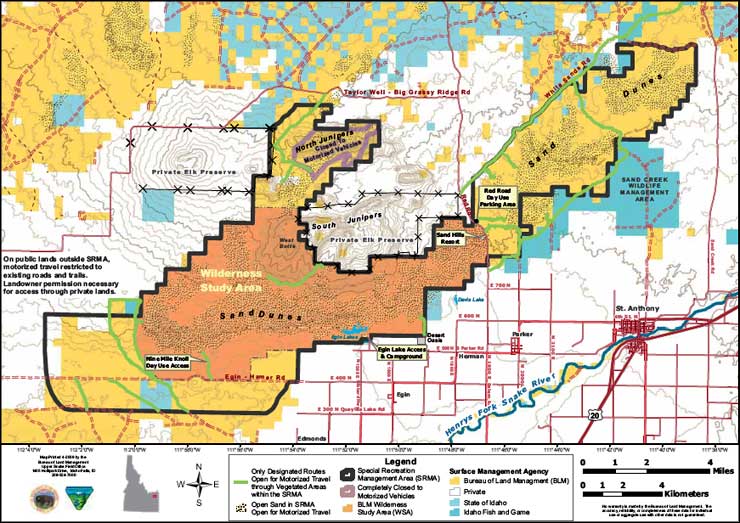 St. Anthony Sand Dunes Special Recreation Management Area
Bureau of Land Management

- Upper Snake River Field Office
Photos and property map are courtesy of the Bureau of Land Management