North Fork Owyhee River Wild and Scenic River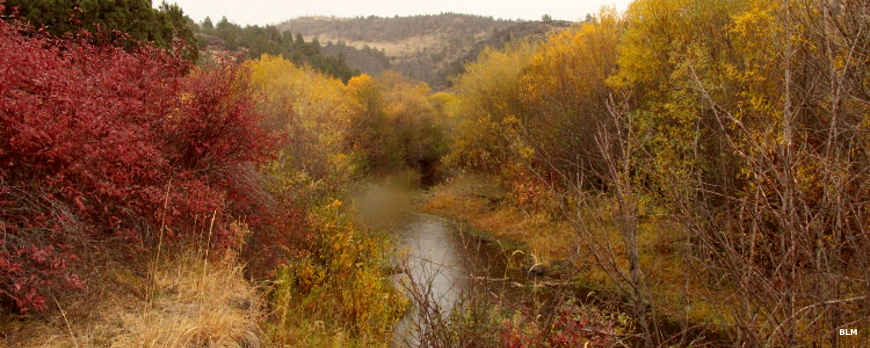 Fall on the North Fork of the Owyhee River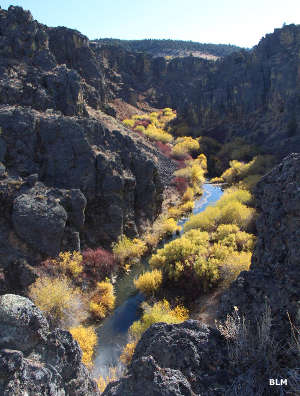 20.8 miles of the North Fork Owyhee River is designated Wild & Scenic. That stretch of the stream runs from the Oregon-Idaho state line upstream to the eastern North Fork Owyhee River Wilderness boundary. The "Wild" designation covers the entire stretch of the stream but from the Juniper Mountain Crossing bridge downstream for 5.7 miles, "Recreational" is added to the designation. That bridge is where the Owyhee Uplands Backcountry Byway crosses the river with the North Fork Campground on the north shore.
Spring and early summer brings whitewater that cries "expert only" because it is a rough-and-rugged deep canyon experience for most of its length. Some of the photos on this page were taken at the North Fork Campground, located where the Owyhee Uplands Backcountry Byway touches on the western boundary of the wilderness and offers a good put-in to the river. Just don't be fooled by how peaceful the water looks...
A product of extensive volcanic activity during the Miocene Epoch (24 to 5 million years ago), the region is part of the Owyhee Canyonlands, the largest concentration of sheer basalt/rhyolite canyons in the western United States.
The wilderness area upstream of the Wild & Scenic River designation consists of plateaus and deep, rugged canyons with streams that provide habitat for redband trout, sage hens, mountain quail, mule deer, antelope, mountain lions, bobcats, coyotes and bighorn sheep. The majority of the area is treed in pines, cottonwoods and aspen with a dense understory.
Most folks reach the area by traveling the Owyhee Uplands Backcountry Byway.

Along the North Fork of the Owyhee in the fall

Below the deeper canyon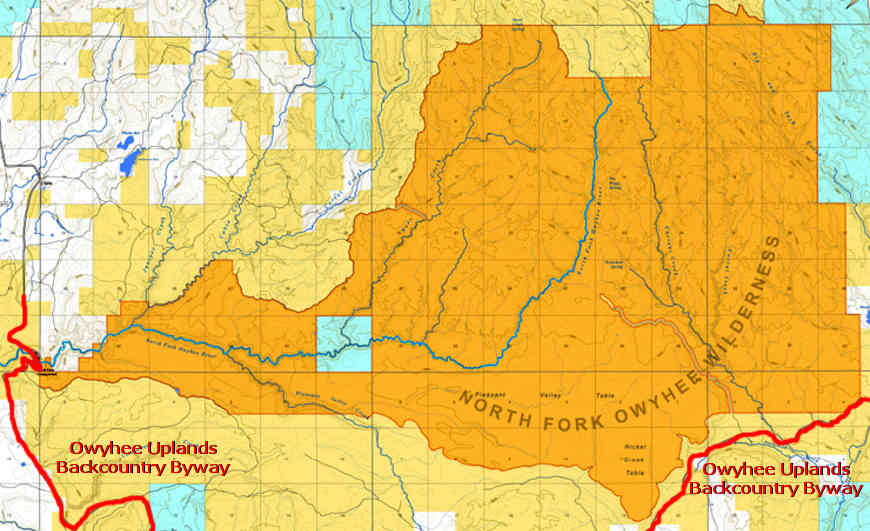 Photos and map courtesy of the Bureau of Land Management