Elk River Backcountry Byway
The Dent Bridge
over Dworshak Reservoir, Elk River Backcountry Byway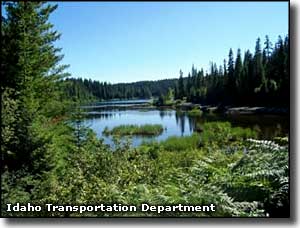 The Elk River Backcountry Byway is a 57-mile route through the forests of north central Idaho. The northern terminus is in Bovill at the junction of State Highways 3 and 8, the southern terminus in Orofino at the junction of State Highway 7 and Wells Bench Road. The road from Bovill to Elk River is paved, then turns to gravel at Elk River. Wells Bench Road is paved from Orofino to one mile north of the Dent Bridge, then is gravel for the rest of the journey to Elk River. The route is open year-round but can be icy in the winter.
This area of Idaho was mostly built on the timber industry. After buying 4,000 acres of timber in the area, Potlatch Lumber Company came to Elk River in 1906. They had to build real roads to get there. Previously, Elk River had been a hunting resort at the edge of the wilderness.
Spring runoff on the Clearwater River was high enough to float logs downstream to the sawmills in Lewiston so timber was harvested year round and sent downstream only in that seasonal high flow. Eventually, a railroad line was extended from Bovill to Elk River and shipping could happen year-round. In 1910, Potlatch built an electric-powered sawmill in Elk River. As part of that project, they also constructed Elk Creek Reservoir. Elk River grew quickly after that. These days, the timber industry has scaled way back and Elk River is again a hunting resort community, also known for its great huckleberries (in season) and for the year-round recreational opportunities.
Just outside Elk River in Perkins Cedar Grove is Idaho's largest tree. It's a western red cedar with a trunk 18 feet in diameter and 177 feet tall. The tree is estimated to be about 3,000 years old. This giant is on Forest Service property and surrounded by other old growth trees, most of which are at least 500 years old. Also just outside Elk River is Elk Creek Falls: a site where a cascade of three waterfalls drops over ancient lava walls. The original hunting community at Elk River was built around the waterfalls.
In driving the Elk River Backcountry Byway, the first part of the route along Wells Bench Road is through an area of ranchettes and farms separated by small patches of timber. As the ranchettes start to fade away, the forest gets thicker and the road drops down to cross Dent Bridge over Dworshak Reservoir. Dent Bridge was built in 1969-1970 and named for Charles and Katherine Dent, homesteaders who arrived in the area in 1895. About one mile past the bridge, the road turns to gravel. This is where you'll enter the depth of the forest, an area teeming with deer, elk, black bear, bobcats, cougars, wild turkeys, coyotes, ospreys, songbirds and maybe even wolves. At mile 34 (from Orofino) you'll be coming into Elk River.
Elk River is historically home to the Clearwater-Potlatch Timber Protective Association (a local group of highly trained forest fire fighters). At the edge of town is the Elk Creek Reservoir, former log pond but now major fishing mecca. There is a loop road that wraps around the reservoir and gives access to the three developed campgrounds. There is also a historical museum in Elk River.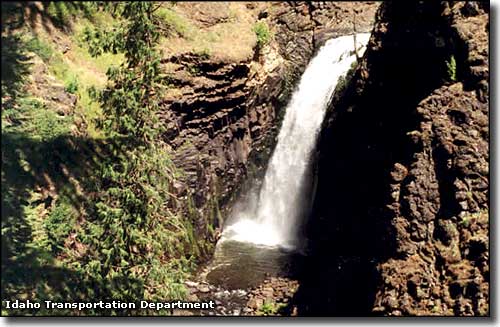 Elk Creek Falls
Upper photo courtesy of the US Forest Service
Other photos courtesy of Idaho DOT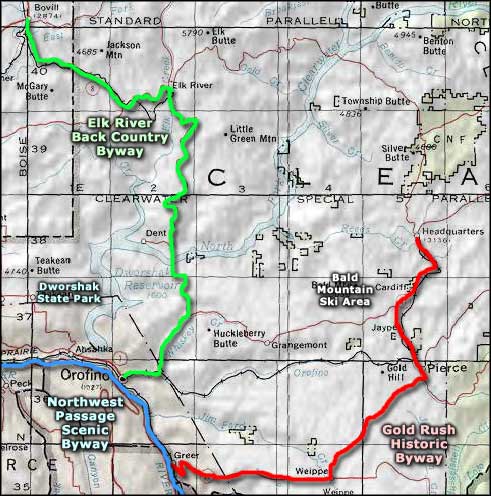 Related Pages
Map courtesy of National Geographic Topo!