Prime Hook National Wildlife Refuge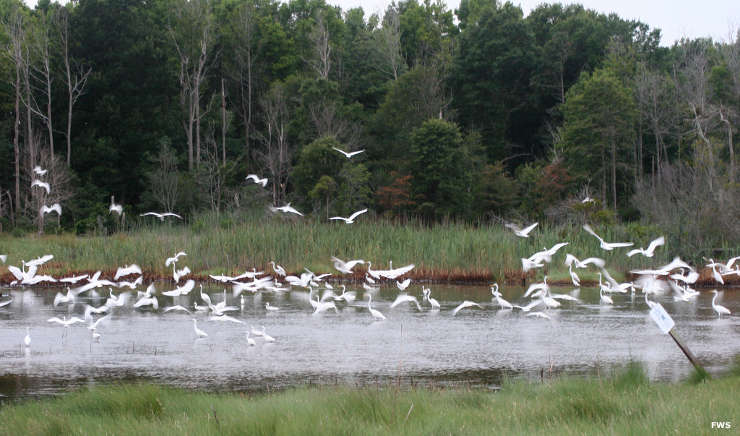 Snow geese at Prime Hook National Wildlife Refuge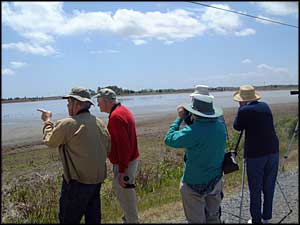 Prime Hook National Wildlife Refuge was established in 1963 under the authority of the Migratory Bird Conservation Act. The 10,000-acre property is just a few miles down the coast from Bombay Hook National Wildlife Refuge and contains some of the finest existing wetland habitat areas along the East Coast. The property is a diverse landscape of woodlands, grasslands, scrub-brush habitats, ponds, freshwater and saltwater marshes, a 7-mile long creek, bottomland forested areas and cultivated farmland. About 296 species of birds have been identified on the property along with 37 different mammals and 38 species of reptiles and amphibians.
About 4,200 acres of the National Wildlife Refuge is composed of impounded marshes, managed almost exclusively for the benefit of migrating shorebirds and waterfowl: Prime Hook sees upward of 100,000 snow geese and 80,000 ducks at the peak of the fall migration season.
There's also about 2,300 acres of tidal saltmarsh on the property. While tidal saltmarsh is an important but diminishing habitat on the east coast, these acres are pretty much left alone in their original pristine condition. Depending on the season, you might come across hordes of horseshoe crabs crawling up out of the water to lay their eggs in the sand.
That leaves maybe 3,500 acres of upland areas with a mixture of oak, hickory, pine poplar and maple forest and open grassland where you'll find red fox, white-tailed deer, muskrat and opossum. In hiking around the property you'll need to realize that the refuge doesn't usually extend to the beachfront - the communities of Prime Hook Beach, Broadkill Beach and Slaughter Beach line most of the beach areas.
Prime Hook National Wildlife Refuge is open for visitors every day of the year from one-half hour before sunrise to one-half hour after sunset. There isn't much for human amenities on the property but there is no use fee either. The Visitor Contact Station and Friends Store is open Monday through Friday year round from 7:30 am to 4 pm. From April 1 to Thanksgiving, the Visitor Center and Store is open weekends from 10 am to 4 pm.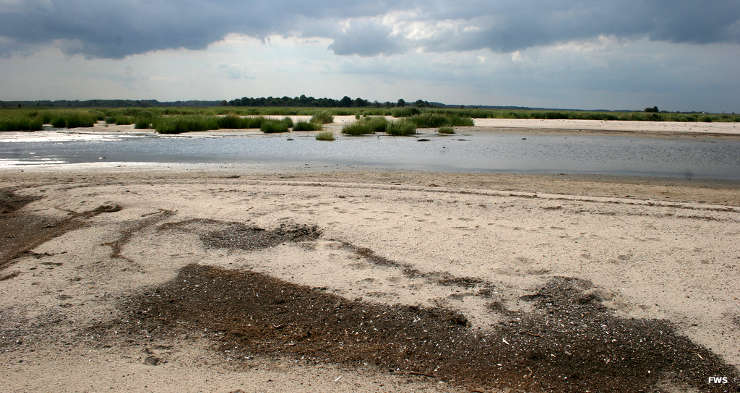 Salt marsh and tidal flats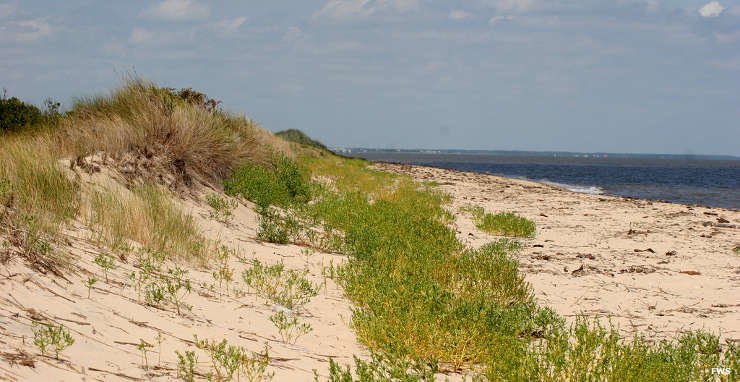 Dunes, sea grasses and waves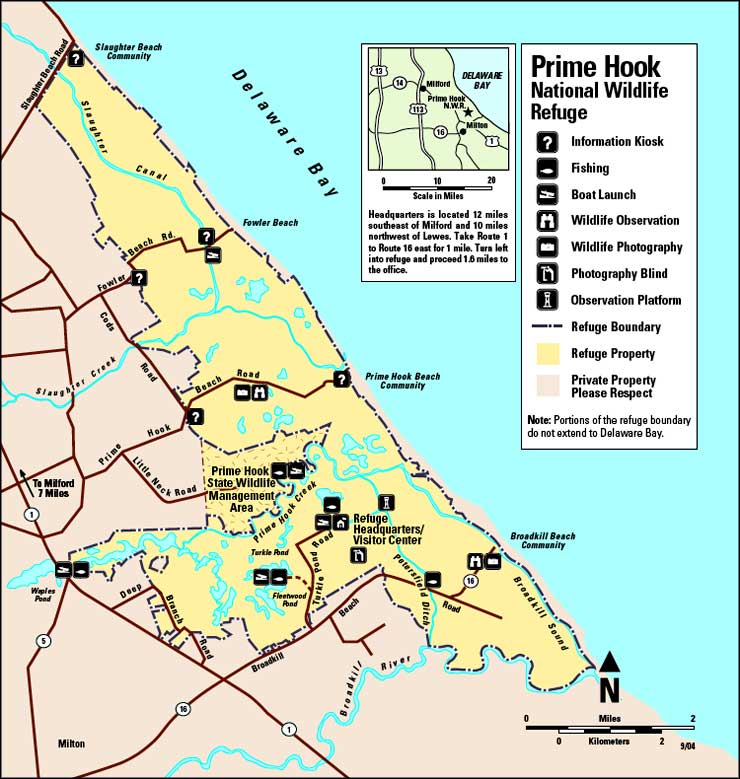 Prime Hook National Wildlife Refuge

Photos and map courtesy of the US Fish & Wildlife Service