San Luis National Wildlife Refuge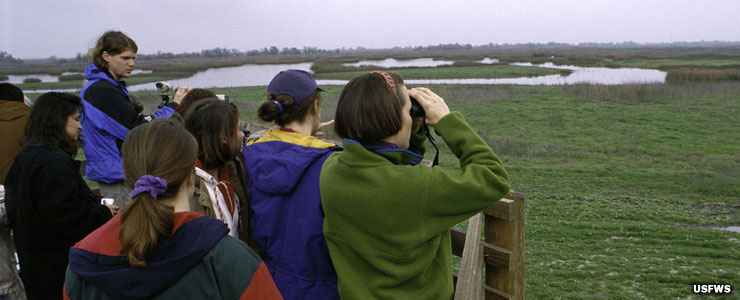 Bird watchers at San Luis National Wildlife Refuge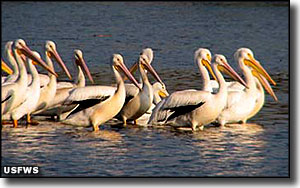 There are three auto tour routes (Winton Marsh Trail, Sousa Trail and Elk Route) that traverse the 26,600 acres of native grasslands, riparian forests, wetlands and vernal pools of the San Luis National Wildlife Refuge. Along all three auto tour routes you'll find nature trails with observation decks strategically placed to optimize the viewing of resident and migratory wildlife. From February to September another trail is open that allows access to the historic river-crossing settlement at Chester.
While most of the management focus at San Luis NWR is on the wetlands and the migratory birds they attract, the Refuge also has a thriving tule elk population. By the early 1900's, California's population of indigenous tule elk had been decimated by over-hunting and loss of habitat. By some estimates, they hit a low of 20 animals early in the 1900's. In 1974, 18 tule elk were relocated to San Luis NWR and kept in a large enclosure to see if the species could be saved. 35 years later, there are more than 4,000 tule elk scattered across the state.
San Luis National Wildlife Refuge was established as a sanctuary for migratory waterfowl in 1966. Over the years, more land has been added to the original acquisition until now there are six contiguous units, a couple of them straddling the San Joaquin River. A good portion of San Luis National Wildlife Refuge is composed of upland habitats characterized by alkaline conditions. Combine that alkalinity with low rainfall and a generally arid climate and you can see this is a great place where native bunchgrasses, forbs and shrubs can flourish in an undisturbed setting. In addition to the water-loving willows, cattails and bulrushes, the riparian corridors are lined with cottonwood and valley oak. The uplands are where you'll see the desert cottontail rabbits and coyotes while the riparian zones are where you'll most likely find the western meadowlarks, yellow-billed magpies, loggerhead shrikes, white-tailed kites, northern harriers, jackrabbits, field mice, ground squirrels and endangered San Joaquin kit foxes.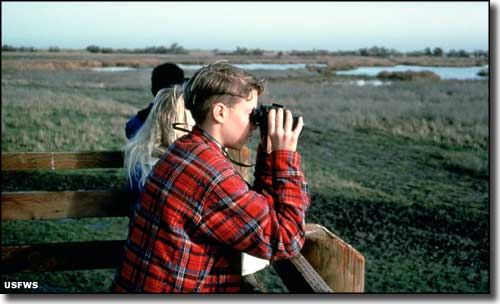 A high school class learning about bird watching at San Luis National Wildlife Refuge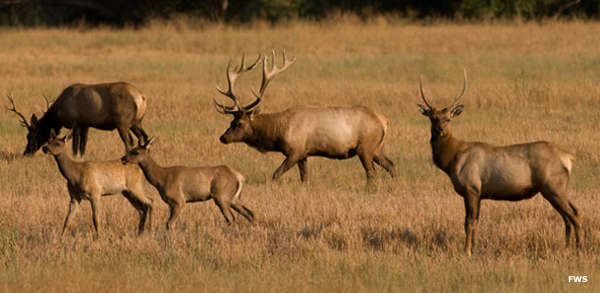 Tule elk on San Luis National Wildlife Refuge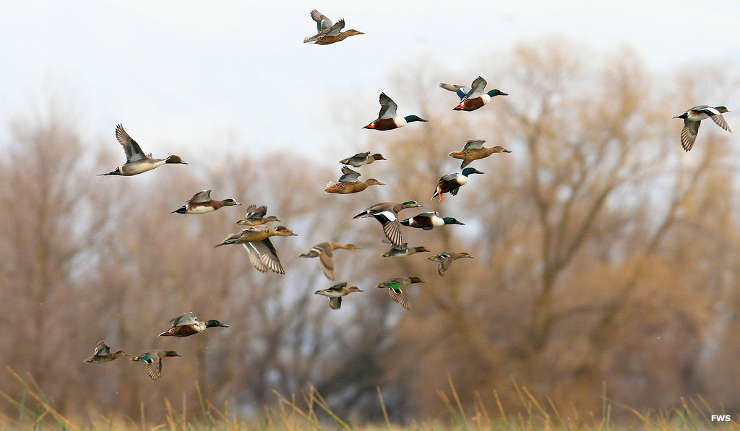 Ducks in flight above the refuge
San Luis National Wildlife Refuge

Upper photos courtesy of John & Karen Hollingsworth, US Fish & Wildlife Service
Photo of the American white pelicans courtesy of Richard Albers, US Fish & Wildlife Service
Other photos courtesy of the US Fish & Wildlife Service