Don Edwards San Francisco Bay National Wildlife Refuge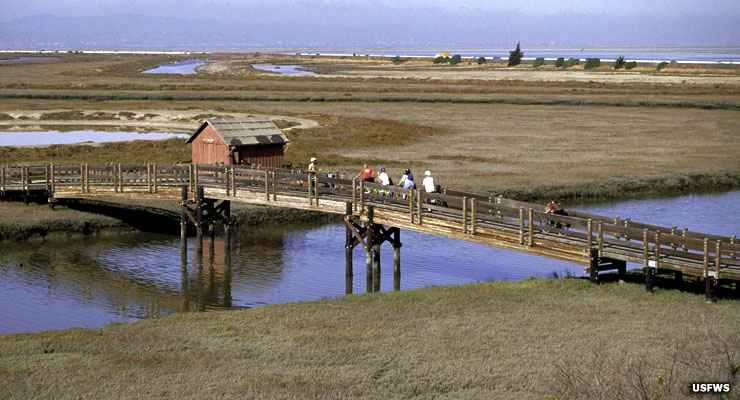 One of the hiking/biking trails on Don Edwards San Francisco Bay National Wildlife Refuge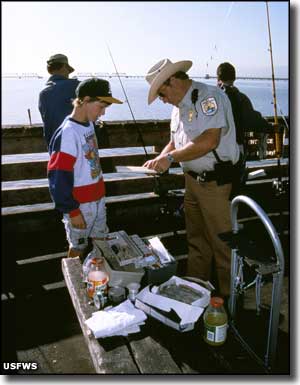 The Don Edwards San Francisco Bay National Wildlife Refuge offers some 30,000 acres of wildlife refuge in an urban setting (Congress authorized the NWR at 43,000 acres so land acquisition isn't complete yet). In migration times, this National Wildlife Refuge can see upwards of 1 million shorebirds, upwards of 700,000 waterfowl and up to 30,000 wading birds. With more than 30 miles of hiking and biking trails available, it's easy to see how the Don Edwards San Francisco Bay National Wildlife Refuge has the largest public use program of any National Wildlife Refuge in the United States.
More than 280 species of birds use Don Edwards San Francisco Bay NWR for all or part of the year. There are nine species of animals on the Federal list of threatened and/or endangered species that hang out here, among them the salt marsh harvest mouse, California least tern, Western snowy plover and the California clapper rail.
17,000 acres of Don Edwards San Francisco Bay NWR is mostly salt pond, used by the Cargill Salt Company for solar evaporative salt production. In the winter, these salt ponds are used heavily by herons, egrets, waterfowl and other shorebirds as they fish for the brine shrimp, small fish and other invertebrates that inhabit the saline waters. Enough brine shrimp exist here that they are also commercially harvested through special use permits.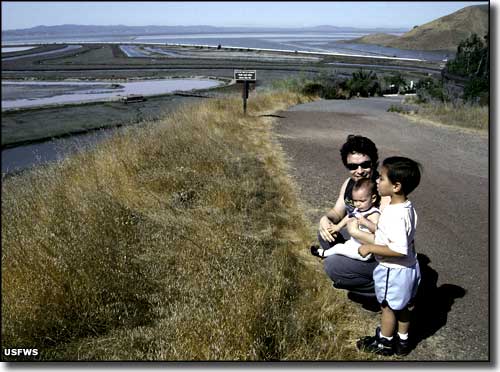 Hiking around San Francisco Bay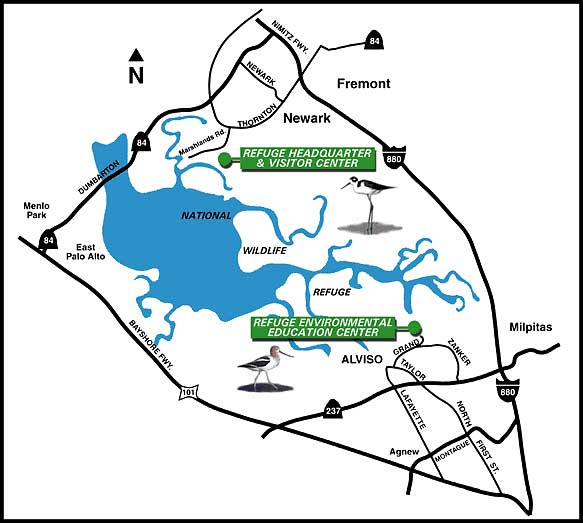 Don Edwards San Francisco Bay National Wildlife Refuge

Photos courtesy of John & Karen Hollingsworth, US Fish & Wildlife Service
Map courtesy of the US Fish & Wildlife Service