Port Chicago Naval Magazine National Memorial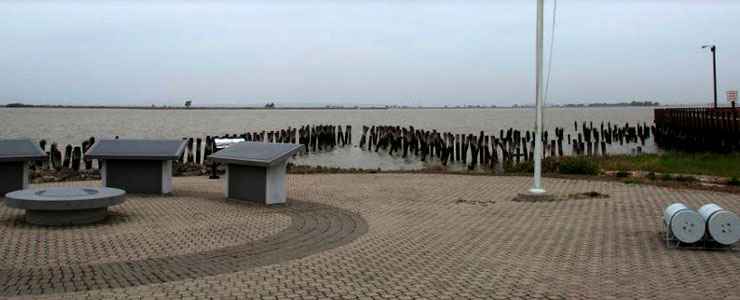 Port Chicago Naval Magazine National Memorial
On the evening of July 17, 1944, 320 sailors and civilians were killed instantly when the two ships they were loading with ammunition for troops in the Pacific theatre exploded. This was the worst disaster on the homefront in World War II. The majority of the dead were African-Americans working for the racially segregated military. In the aftermath of the explosion, the Navy faced the largest mutiny in its history and between that and the following trial, the decision was made to fully desegregate the Navy immediately after the war was over.
The Memorial was authorized by Congress in 1992 and dedicated in 1994. The 5-acre site is on the grounds of the Military Ocean Terminal Concord and operations on that base sometimes force the closure of the Memorial. At the same time, the Port Chicago Committee is working to expand the current memorial into a 250-acre site including some of the old railroad tracks and cars still there and the existing memorial chapel with the stained glass windows depicting the World War II operations.
Visitation requires reservations, two week advance reservations. All visitors to the site must be either US citizens or permanent residents: MOTCO is a controlled access facility. Access is allowed only on Thursdays, Fridays or Saturdays. All visitors are shuttled to the Memorial from the Concord Naval Weapons Station Identity Office on National Park Service vehicles. Figure on spending almost 2 hours getting through everything and having an enjoyable visit.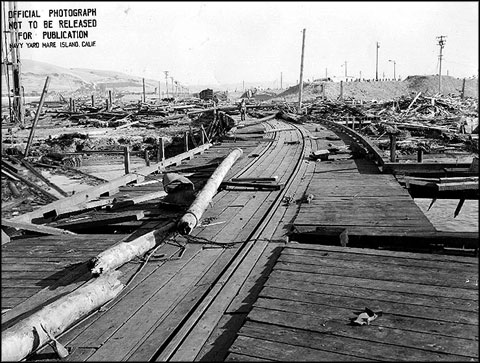 In the aftermath of the explosion at Port Chicago
Port Chicago Naval Magazine National Memorial
Port Chicago c/o John Muir NHS
4202 Alhambra Avenue

,

Martinez

,

CA

94553
925-228-8860 x6520

Photos courtesy of the National Park Service