Modoc National Wildlife Refuge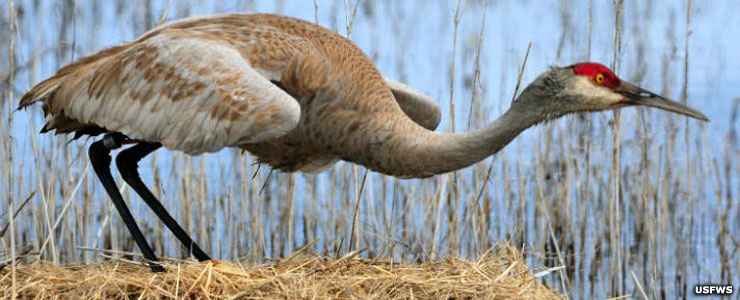 A sandhill crane at Modoc National Wildlife Refuge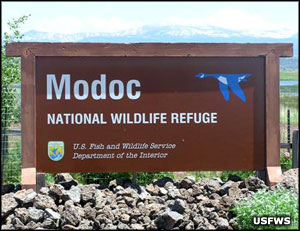 The 7,021 acres of Modoc National Wildlife Refuge are located in the northeastern corner of California, in a high-altitude, cold desert valley along the western edge of the Great Basin. With big desert to the east and sharp, high mountains to the west, Modoc National Wildlife Refuge is located on the South Fork of the Pit River and contains a large complex of wetlands and lakes that serve as a migration hub and staging area for the tens of thousands of migratory waterfowl passing through every spring and fall.
Habitats on the refuge range from 4,149 acres of wetlands, wet meadows and open waters to 246 acres of riparian communities to 1,514 acres of sagebrush-steppe to 554 acres of cropland. The riparian zones are usually made up of willows and cottonwoods and provide support for the great-horned owls, western kingbirds, red-tailed hawks, cedar waxwings, bald eagles and red-shouldered hawks that feed on the smaller mammals that exist close to the riparian areas.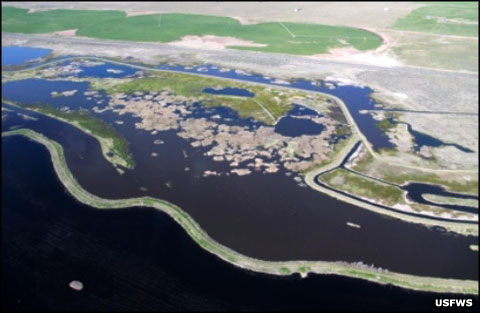 An aerial view of Modoc National Wildlife Refuge
Perched as it is in the Pacific Flyway on the edge of the arid Great Basin, these wetlands become even more valuable. As for the cropland, the least productive of it is being allowed to revert back to seasonal wetlands and native grasslands. The sagebrush-steppe uplands also grow a variety of grasses and forbs mixed with the rabbitbrush and sagebrush and provides food for various species in addition to providing cover for nesting ducks. However, even on the eastern side of high mountains at the edge of the Great Basin dry, Modoc National Wildlife Refuge fights a never-ending battle against invasive weeds and non-native plants.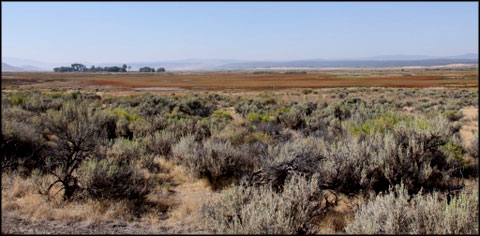 Goose Pond, surrounded by wet prairie
76 species of geese, ducks, greater sandhill cranes and other marsh and upland birds nest and bear their young on the refuge every year. More than 100 other species just fly in, hang out and get a bite to eat for a few days every six months... Among the mammals on the refuge are badger, porcupine, striped skunk, mule deer, coyote, bobcat and pronghorn antelope.
Despite the relative remoteness of Modoc National Wildlife Refuge, the property does see an average of about 45,000 people per year coming to visit, most coming during the height of the spring and fall migrations.
The Auto Tour and Walking Trail are open every day of the year from sunrise to sunset. The Headquarters Office and Visitor Center are generally open Monday through Friday, 7 am to 3:30 pm except on holidays. There are no fees involved.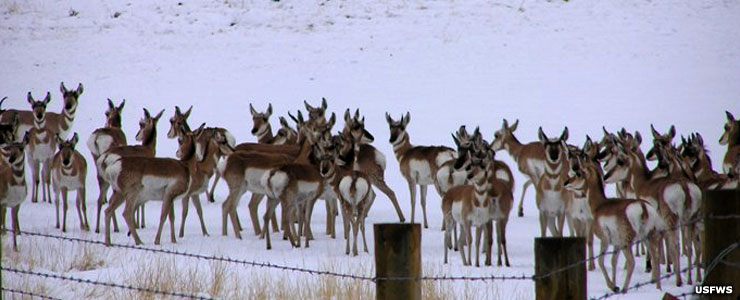 Pronhorn antelope gather in herds for the winter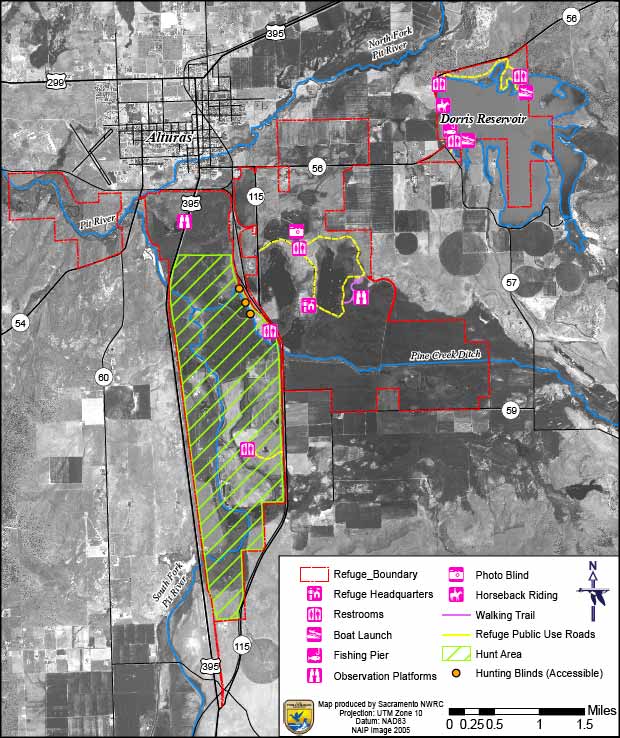 Modoc National Wildlife Refuge
5364 County Road 115, PO Box 1610

,

Alturas

,

CA

96101
530-233-3572

Photos and map courtesy of the US Fish & Wildlife Service