Lanphere Dunes Unit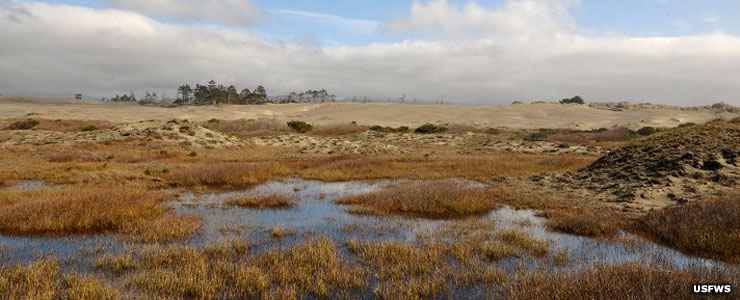 Mal-le'l Dunes, part of the Lanphere Dunes Unit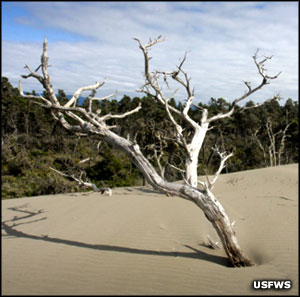 The Lanphere Dunes were owned by William and Hortense Lanphere for many years. Because of their care for the property, the dunes have remained in a relatively pristine state. In 1974, the Lanphere's began a movement to provide permanent protection for the dunes and shortly were able to sell the property to The Nature Conservancy who eventually sold the property to the US Fish & Wildlife Service in 1998. The dunes are now part of the Humboldt Bay National Wildlife Refuge.
During those years of ownership, The Nature Conservancy carried out a very successful dune restoration project and established a model for future dune restoration projects up and down the Pacific coast. Through that period of time, The Nature Conservancy and later the US Fish & Wildlife Service also began adding property to the south along the dunes, property that was more severely degraded and is now known as the Mal-le'l Dunes. The Mal-le'l Dunes are administered under a cooperative agreement with the Bureau of Land Management.
These dunes to the south of Lanphere Dunes had been much more severely impacted by off-road vehicles and required additional restoration effort. The foredune at Mal-le'l Dunes had been completely taken over by European beachgrass and the dune ridges behind the foredune were being occupied by a mix of beachgrass, iceplant and yellow bush lupine, all invasive species. Taking care to not disturb those remaining patches of native species, most of that top layer of invasive species was scraped off by human-powered and mechanical means and with regular annual maintenance, within a few years the native species reclaimed their rightful heritage and slowly the plant and animal balance came back.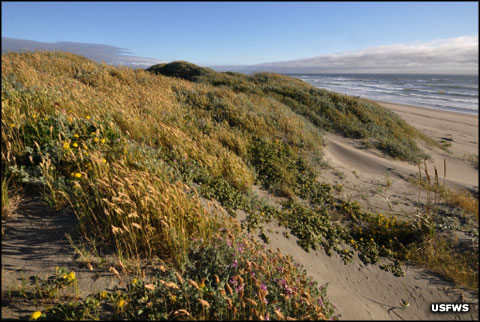 The Lanphere Dunes after full restoration
The Mal-le'l Dunes area is open daily from sunset to one hour after sunset. Folks can walk or bike in every day of the week but vehicle access to the parking area and trailhead is restricted to Fridays through Mondays. You'll find a bike rack, picnic table, vault toilet and interpretive kiosk in the parking area.
To tour the Lanphere Dunes you'll need to make a reservation and take a guided tour first, then you can apply for an access permit. For the guided tour schedule: 707-444-1397. There's a kiosk at the trailhead with maps and brochures but don't visit without a permit.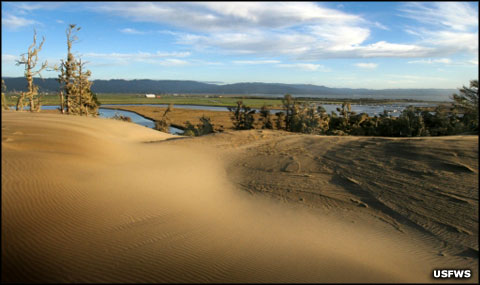 In the Mal-le'l Dunes area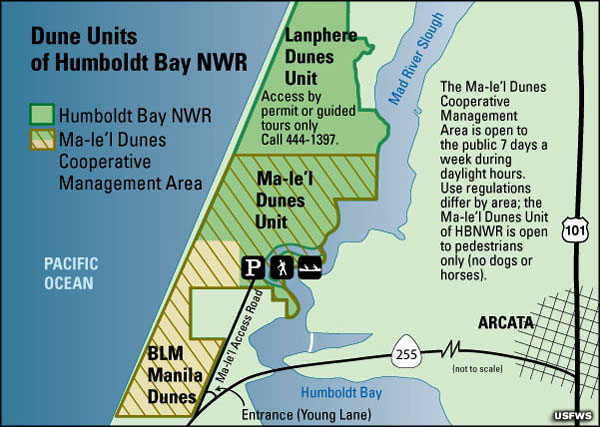 Lanphere Dunes Unit
Humboldt Bay National Wildlife Refuge

Photos courtesy of Andrea Pickart, US Fish & Wildlife Service