Guadalupe-Nipomo Dunes National Wildlife Refuge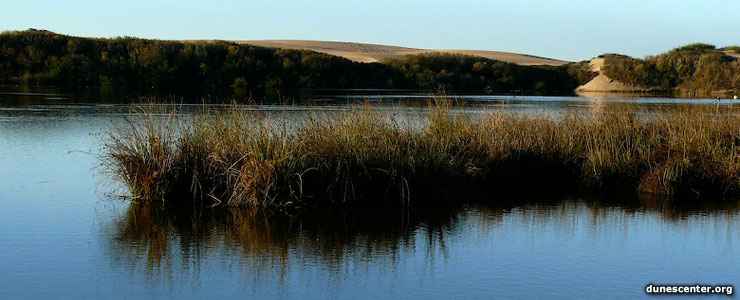 Wetlands at Guadalupe-Nipomo Dunes National Wildlife Refuge
The Guadalupe-Nipomo Dunes National Wildlife Refuge is a 2,553-acre property embedded in the Guadalupe-Nipomo Dunes Preserve located on the California coast in Santa Barbara and San Luis Obispo Counties. The refuge was established in 2000 to protect breeding habitat for the endangered California least tern and the threatened western snowy plover. Also among the endangered and threatened species on the property are the California tiger salamander, Morro blue butterfly, California red-legged frog, shoulder band dune snail and 16 species of rare or endangered plants. You might also find recovering endangered species like California brown pelicans and peregrine falcons on the property. In all, this fragile, pristine coastal dunes complex is home to more than 120 species of rare plants and animals.
The Guadalupe-Nipomo Dunes Preserve is a partnership program among Federal, State, County and private landowners for the cooperative management of the area and sharing of limited resources to meet common goals, like the preservation of endangered species and the removal of invasive species that threaten the habitat. The Preserve deals with an 18-mile-long coastal dunes complex that the refuge is in the center of. Among the habitats on display are fore dune, open sand, back dune, dune swale, coastal dune scrub and several types of brackish and freshwater wetland.
Public access is provided by the surrounding State and County park properties: Guadalupe-Nipomo Dunes National Wildlife Refuge itself is kept in a more wilderness state simply by being as relatively remote as it is. To get there you'll need to park a couple miles away and make the trip on foot through soft sand to reach the refuge boundaries: access is only permitted from the beach side. That access route also requires at least one stream crossing and depending on the season, that could be tricky. The refuge is closed to public access from March 1 through September 30, breeding and nesting season of the threatened western snowy plover.
The refuge includes about 1.8 miles of beach front and extends inland for about 3 miles. As a day-use only facility, camping and campfires are not allowed on the property. Winter is a good time to see migratory waterfowl, spring a good time to see migratory shorebirds who visit when the coastal dune plants are in bloom. Best place to get information and inquire about local conditions: The Dunes Center in Guadalupe. The street address and website are listed below.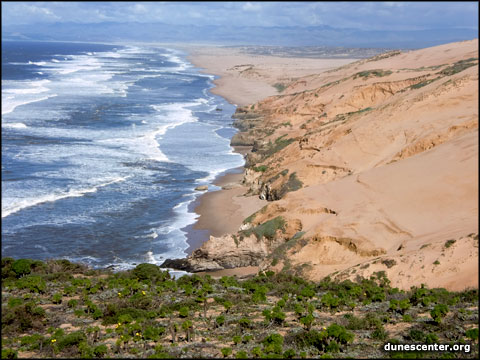 View from the Point Sal Overlook near Guadalupe-Nipomo Dunes National Wildlife Refuge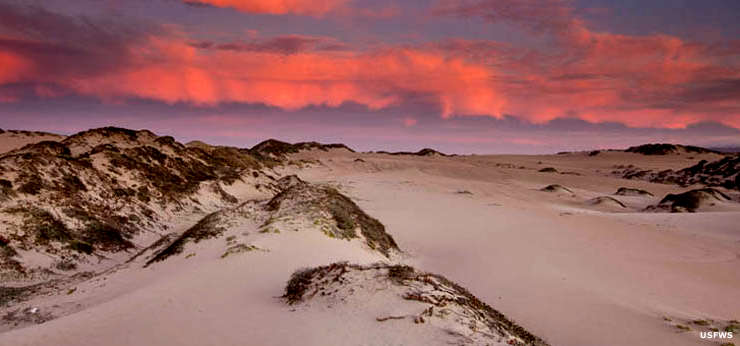 Guadalupe Dunes at sunset
Guadalupe-Nipomo Dunes National Wildlife Refuge
The Dunes Center

Top photo courtesy of Jules Reuter, The Dunes Center
Lower photo courtesy of The Dunes Center
Bottom photo courtesy of the US Fish & Wildlife Service