California Desert Renewable Energy Conservation Plan

A solar power farm in the desert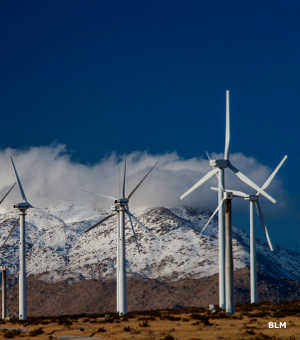 A wind farm
The California Desert Conservation Area officially became part of the California Desert Renewable Energy Conservation Plan (DRECP) in September, 2016. A plan had been going back and forth between governments and utilities for several years until finally, in 2016, a formal decision was announced and the DRECP came into being. The DRECP is a redefinition of allowed land use in some areas of the southern California deserts while potentially opening other areas for the construction of renewable energy projects: mostly wind turbines and solar panels. Included in the plan are some 10.8 million acres of public lands managed by the BLM through the Ridgecrest, Barstow, Needles, Palm Springs/South Coast and El Centro field offices.
Most of what was defined in the plan are the OHV areas, wilderness and wilderness study areas, national monuments, preserves, natural areas, Areas of Critical Environmental Concern and other potential land set-asides. That definition also cleared the way for possibilities for the expansion of renewable energy use in southern California.
In southern California, the mountain passes that see sustained good winds have had wind turbines spinning in them for years. The only area of renewable generation growth left is to the east in the popular-but-unpopulated mountain and desert areas. The DRECP made real planning possible for the utility agencies that want to build those energy farms.

A wind turbine farm in a southern California pass

More solar power panels in the desert

Photos courtesy of the Bureau of Land Management