Bitter Creek National Wildlife Refuge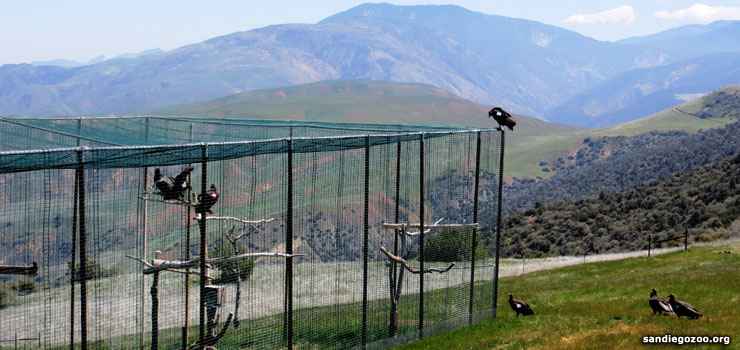 Condor holding pen, Bitter Creek National Wildlife Refuge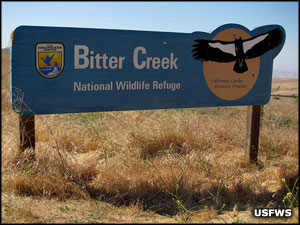 Bitter Creek National Wildlife Refuge is a 14,097-acre property in the eastern foothills of the Coast Ranges in Kern County. It is one of the four units in the Hopper Mountain National Wildlife Refuge Complex, a series of National Wildlife Refuges established to preserve and protect dwindling habitat for the endangered California condor. The property was purchased in 1985 and the last wild female condor was trapped on Bitter Creek NWR in 1986. Today, condors have been reintroduced to the wild and more than a few feed and roost on Bitter Creek.
Elevations on Bitter Creek National Wildlife Refuge vary from a low around 1,600 feet to a high of 4,680 feet. The refuge is bisected by the primary San Andreas Fault. Another major feature on the property is the dramatic Bitter Creek Canyon, a gash cut into the Earth exposing the rock cliffs and ledges so necessary for the condors. There are several springs inside the refuge boundaries but creeks flow intermittently, depending on local rainfall. Bitter Creek Canyon is the main drainage area and offers a riparian corridor along its length.
Vegetation on Bitter Creek NWR varies from grassland, chaparral and oak woodland to pinon pine, juniper and oak woodland to riparian zones and wetlands. Aside from the condors, other Federally-listed endangered and threatened species like the San Joaquin kit fox, golden eagle, prairie falcon, giant kangaroo rat, blunt-nosed leopard lizard, western horned lizard, tri-colored blackbird and western spadefoot toad are protected on the refuge. Other species found on the property: bobcat, mule deer, mountain lion, coyote, pronghorn antelope, tule elk and western rattlesnake. 119 species of birds have been documented on the refuge, 90 species of which are migratory.
Bitter Creek National Wildlife Refuge is closed to the public to preserve the habitat necessary for all the various endangered and protected species living there. There are viewpoints along Cerro Noroeste Road and along Highway 166 that offer the possibility of spotting California condors.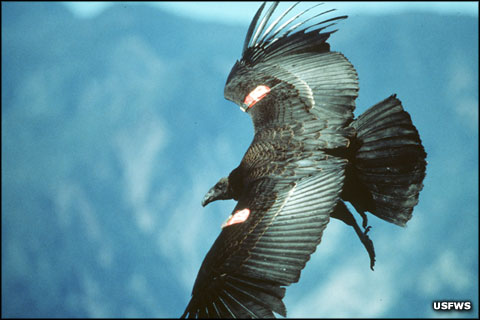 California condor in flight
Bitter Creek National Wildlife Refuge
US Fish & Wildlife Service
Top photo courtesy of
Sandiegozoo.org
Other photos courtesy of the US Fish & Wildlife Service