Pea Ridge National Military Park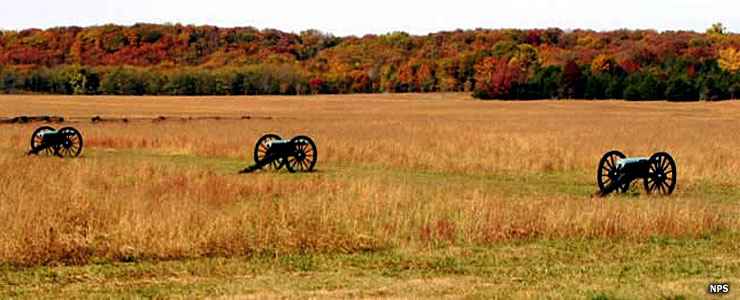 Cannons on display at Pea Ridge National Military Park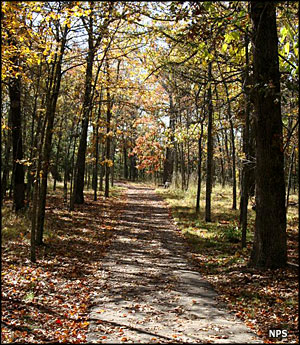 On March 7-8, 1862, 26,000 soldiers fought a battle at Pea Ridge that eventually decided the fate of Missouri and the western states. This was one of the pivotal battles of the Civil War and this 4,300-acre site has been dedicated to those on both sides who fought and died here for their beliefs. This was a fight between the Union Army of the Southwest and the Confederate Army of the West. On the Union side, almost half the enlisted troops and many of the officers spoke German as their first language. Pea Ridge was also the only major battle of the Civil War in which Native American troops participated: two Confederate regiments were composed of almost 1,000 Cherokee warriors.
The Union forces were surprised by the Confederates at Pea Ridge, and outnumbered and outgunned. It was one of the few battles during the Civil War where Union forces would be at such a disadvantage, but with excellent leadership, the Union prevailed and won a decisive victory over the Confederates. Several of the Union leaders would go on to become major commanders during and after the war.
The battle was fought in and around the settlement of Leetown. Both sides used buildings in the town to shelter and treat their wounded during the fighting but when the smoke finally cleared, the town was almost completely destroyed. Most of the surviving residents left and never came back. The fighting had been so fierce that most of the woods and pastures in the area suffered massive damage: almost nothing was left untouched by shell, shot or shrapnel.
Today, the park offers a Visitor Center with a theater, bookstore and small museum. On the grounds are a 7-mile, 10-stop tour road, a 9-mile equestrian trail and a 7-mile hiking trail. The countryside has recovered from the scars of the battle and you'll find wildlife, forest and pasture all around. The park has 28 interpretive exhibits scattered around the grounds.
Entry fees: $5 per person over the age of 15, good for 7 days. $5 per motorcycle, $10 per vehicle, also good for 7 days. An annual pass to the park costs $20 per person. Fees are subject to change. The Visitor Center is open from 8:30 am to 4:30 pm daily except Thanksgiving Day, Christmas Day and New Year's Day. The park grounds are open in summer from 6 am to 9 pm daily until September 30. Then the hours revert to the winter schedule: 8 am to 5 pm.

Elkhorn Tavern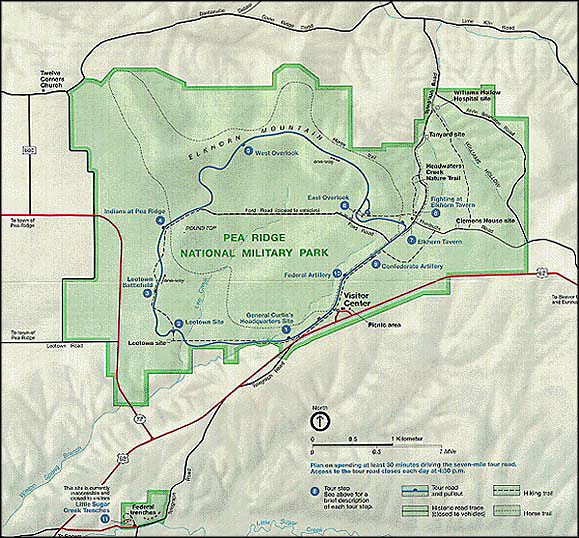 Pea Ridge National Military Park

Photos and map courtesy of the National Park Service