Holla Bend National Wildlife Refuge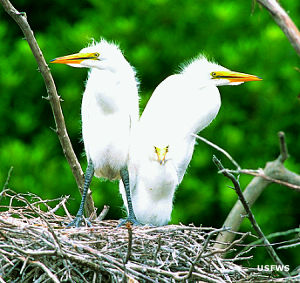 Back in 1954, the US Army Corps of Engineers took on a project straightening the Arkansas River for navigation improvement and flood control purposes. As part of that project, a channel was cut across Holla Bend and the water in that oxbow was cut off from the water flow of the main river channel. Back in the early 1900's, there were 65 families living on this land, farming the rich bottomland soils. Then a catastrophic flood in 1927 replaced much of that topsoil with deep layers of sand and forced most of the human residents from the area.
Today, there's almost 7,000 acres of prime waterfowl nesting, feeding and breeding grounds surrounded by those channels. So you can safely assume that everything happening on this property is about enhancing the habitat for the 100,000-or-so ducks and geese that venture into this part of the Mississippi Flyway for the winter. Spring sees thousands of neo-tropical songbirds come to visit from Central and South America. In the summer you'll find herons, egrets and other wading birds. As this property is at the northern edge of their preferred living environment, you'll also find a few American alligators in some of the sloughs, lakes and ponds.
Holla Bend National Wildlife Refuge offers an 8-mile auto tour route (open year round) for viewing the wildlife. Scattered along the auto tour route is a series of informational panels to help you learn more about what you are looking at. There's another ten miles of roads closed to vehicular traffic but available for foot traffic (horses are not allowed). Certain areas of the refuge are closed to the public at different times of year to provide peace and quiet for wintering birds and for nesting pairs of bald eagles.The property also offers two boat launching facilities and an observation tower. Hunting and fishing are allowed in season with the appropriate licenses and permits. Best time to visit: November through March. Worst time to visit: June through August (because of the heat and the hordes of flying, biting insects). This is a day-use only property. If you need access to camping, there are several public camping areas within a dozen miles of Holla Bend.
To get there: Take State Highway 7 south from Dardanelle to the intersection with State Highway 155. Turn east and go about four miles to the refuge entrance. Enter the refuge and go about 1/2 mile to the refuge office/visitor center. The refuge is open 7 days a week during daylight hours. The office is open from Monday through Friday, 7 am to 3:30 pm.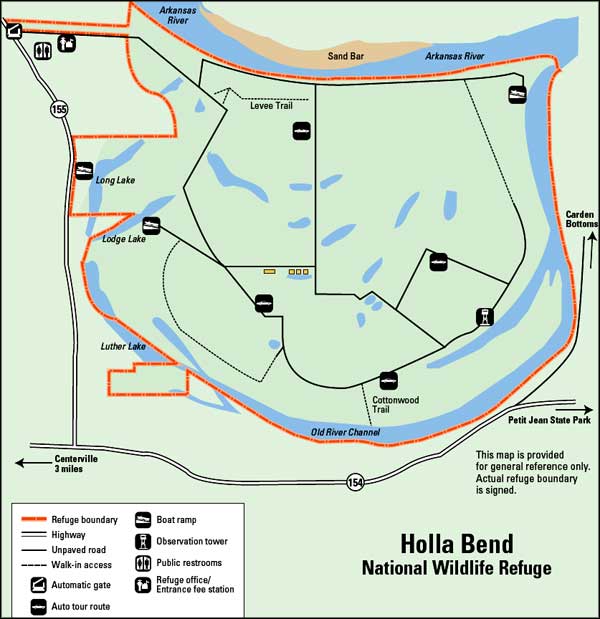 Holla Bend National Wildlife Refuge

Photo and refuge map courtesy of the US Fish & Wildlife Service