Fort Smith National Historic Site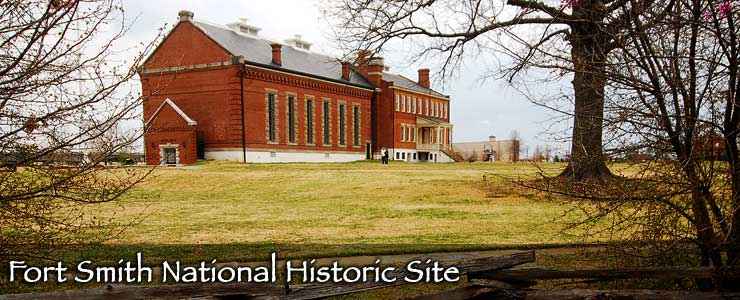 The Visitor Center at Fort Smith National Historic Site
Fort Smith was established beside the Arkansas River on the boundary of Indian Territory on December 25, 1817. Until it was finally decommissioned in 1896, the Fort served as the principal seat of government over Indian Territory and as the site of the Federal Court for Western Arkansas. The Fort figures prominently in the history of the Trail of Tears as the place where the displaced tribes were given supplies and directions to those areas in Indian Territory where others of their tribes were settled. And until the Fort was decommissioned, it served as the center of justice for Indian Territory, too, with a prison known for brutality, overcrowding and horrifically oppressive conditions. The troops stationed at Fort Smith also had the job of keeping liquor out of Indian Territory, a job that they failed at... for the most part.
The history of the Fort is generally broken into three periods: the First Fort (1817-1824), the Second Fort (1838-1871) and the Judicial era (1878-1896). It was in the early 1830's that the Creek, Cherokee, Choctaw, Chickasaw and Seminole began to be pushed through the area as a result of the Indian Removal Act of 1830 (passed under President Andrew Jackson and enforced under President Martin Van Buren). Should you visit the Fort today, you will find exhibits and interpretive displays detailing each era of the Fort's evolution. You will also find interpretations of discoveries and exhibits of historic and prehistoric artifacts dating back almost 12,000 years.
Today's Fort Smith National Historic Site encompasses almost 40 acres in an urban setting (sandwiched between downtown Fort Smith and the Arkansas and Poteau Rivers). The Park's grounds, including the Arkansas River and Belle Point paved trails, are open 365 days a year. The Commissary building, gallows and Visitor Center are open 9 am to 5 pm daily except New Year's Day, Thanksgiving Day and Christmas Day when they are closed. On President's Day and Columbus Day those same 3 sites are only open from 10 am to 3 pm.
There is no fee for touring the grounds but entry to the exhibits in the Barracks/Courthouse buildings runs $4 per person. You have to go through the Barracks/Courthouse area to get to the Visitor Center, gallows and Commissary. Persons age 15 and younger get in free when accompanied by an adult. There is also no fee for holders of Golden Age/Golden Access and similar Interagency passes. An annual pass to the site runs $15 and admits the cardholder plus accompanying spouse, children and parents. Fees subject to change.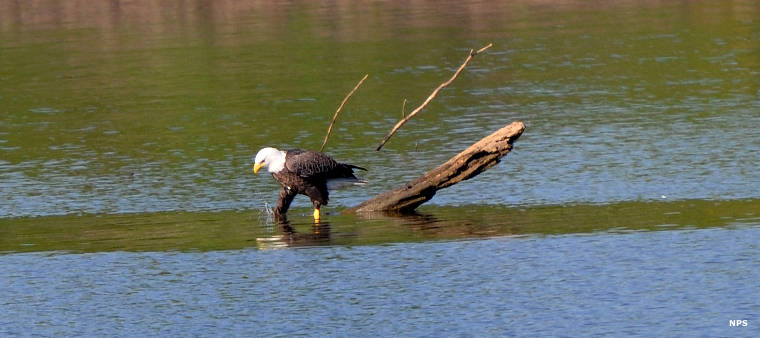 Eagle on the Arkansas River at Fort Smith
Fort Smith National Historic Site
Upper photo courtesy of Chris Litherland,
CCA-by-SA 3.0 License
Lower photo courtesy of the National Park Service