Arkansas Post National Memorial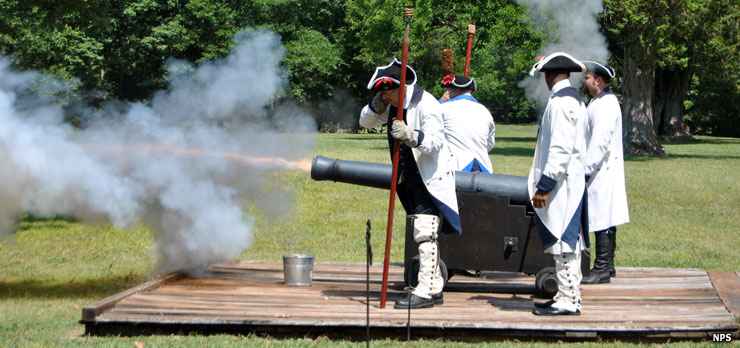 A historic reenactment at Arkansas Post National Memorial
The Post de Arkansae was established in 1686 as the first semi-permanent French colony in the Mississippi River Valley. The site was at a Quapaw village named Osotouy and was only the first step in a long struggle between Spain, France and England for dominance in the area. That position on the banks of the Arkansas River caused the site to be moved from time to time due to seasonal flooding of the river but the post was an important location right up into the time of the Civil War. There was also a military action here in 1783, the only action in Arkansas during the Revolutionary War and it happened when Spanish soldiers manning the fort were attacked by British partisans and their Chickasaw allies.
The Post became part of the United States following the Louisiana Purchase and by 1819, had become a thriving port, largest city in the region and the first capital of Arkansas Territory. As the Post was located at the confluence of the Arkansas and White Rivers, Confederate soldiers constructed a massive earthen fortification there in 1862 as part of their efforts to maintain tactical control of the rivers. A Union force came through in January 1863 and, after a two-day battle, destroyed their construction.
Arkansas Post National Memorial is located in southeastern Arkansas on Highway 169, about seven miles south of Gillett. The grounds of the park are open daily from 8 am to dark. The visitor center is open from 8 am to 5 pm, daily except Thanksgiving Day, Christmas Day and New Year's Day. There are no fees involved unless you're doing something that requires a Special Use Permit (commercial use or wedding or something similar). The park offers a visitor center, picnic area, pavilion and more than two miles of maintained trails that wind through the hardwood forest and through the "historic town site."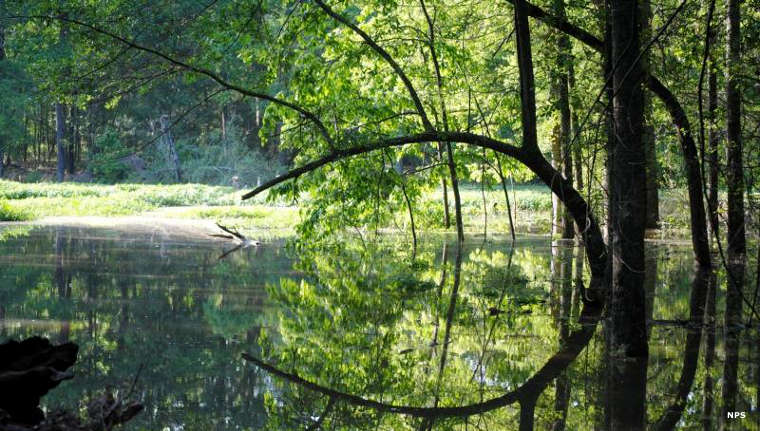 Thick forest along the Arkansas River at the Arkansas Post National Memorial
Arkansas Post National Memorial

Photos courtesy of the National Park Service