Tuskegee National Forest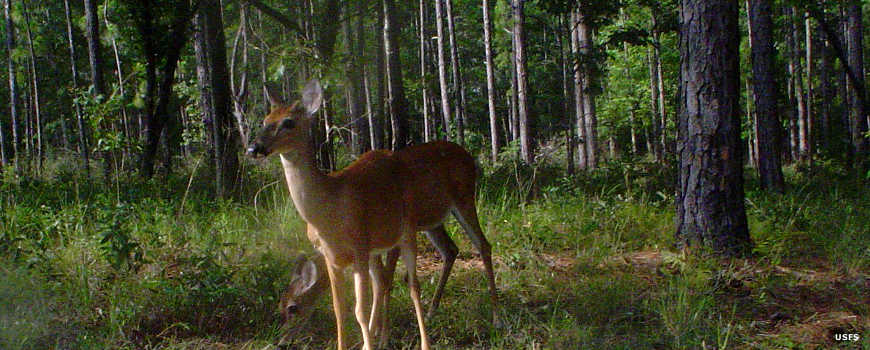 White-tailed deer in the woods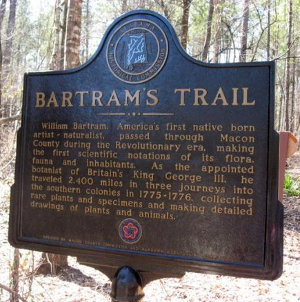 The original 10,358 acres of land purchased by the federal government as part of the Tuskegee Planned Land Use Demonstration between 1935 and 1938 was 80% cut-over, one of the most abused and eroded wastelands in all of Alabama. Today the forest contains some 11,2523 acres and is a model showing how sub-marginal farm land can be recovered and turned to far better use.
Most of the forest is composed of pines ranging in age from one to fifty years old but there are groves of hardwoods with some trees up to ninety years old. Wildlife, including deer, wild turkey and black bear, is plentiful these days, too.
There are four primary hiking trails on the forest, three of which allow mountain bikes. The forest also offers the Uchee Shooting Range, Taska Recreation Area, Tsinia Wildlife Viewing Area and several equine trails. There are ten hunter's camps on the forest, each classed as "primitive" and open to camping year round. Primitive camping is allowed anywhere in the forest except during hunting season when folks are restricted to camping only in designated sites (for their own protection).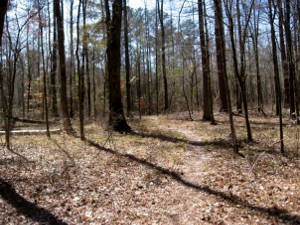 Tuskegee National Forest is the smallest National Forest in America, and one of only six that are contained within a single county. The elevations don't vary much, falling from broad ridges across stream terraces onto broad floodplains. The lay of the land is flat to moderately sloping.
In 1775-1776, William Bartram was commissioned by King George III of England to make a botanical survey of the southern colonies. One of his three journeys led him through what is now Tuskegee National Forest. On his travels, he collected specimens, made detailed drawings of plants and animals that he came across and kept detailed journals with notes about the flora, fauna and indigenous inhabitants.
Tuskegee National Forest - Recreation Sites
| Sites | Amenities |
| --- | --- |
| Bartram National Recreation Trail | |
| Bedford V. Cash/Bold Destiny Memorial Horse Trail | |
| Pleasant Hill Trail | |
| Uchee Shooting Range | |
| Tsinia Wildlife Viewing Area | |
| Taska Recreation Area | |
| Hunting Camps (14 sites) | |
| Chutkee Okhussee (small pond) | |
| Thloko Okhussee (big pond) | |
Tuskegee National Forest
US Forest Service
125 National Forest Road 949

,

Tuskegee

,

AL

36083
334-727-2652
Deer photo courtesy of the US Forest Service