Tuskegee Institute National Historic Site

The George Washington Carver Museum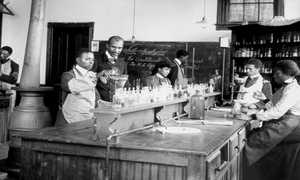 Students working in
George Washington Carver's lab
Tuskegee Institute was founded by Booker T. Washington in the 1890's as a college for African-Americans. The Tuskegee Institute National Historic Site is contained on the campus of what is now Tuskegee University and includes The Oaks (the home of Booker T. Washington) and the George W. Carver Museum.
In the early days, students at Tuskegee Institute had to build the school buildings out of bricks they made on campus. The buildings were often designed by Robert R. Taylor, the first African-American graduate of the Massachusetts Institute of Technology. Andrew Carnegie donated $20,000 to Tuskegee Institute to build a library. At the time, it was the only library funded by Carnegie to which African Americans had free access. The third president of Tuskegee Institute was Dr. Frederick Douglass Patterson, founder of the United Negro College Fund.
Tuskegee Institute National Historic Site is open daily from 9 am to 4:30 pm except for Thanksgiving Day, Christmas Day and New Year's Day. Visitors to the National Historic Site pay no admission fees.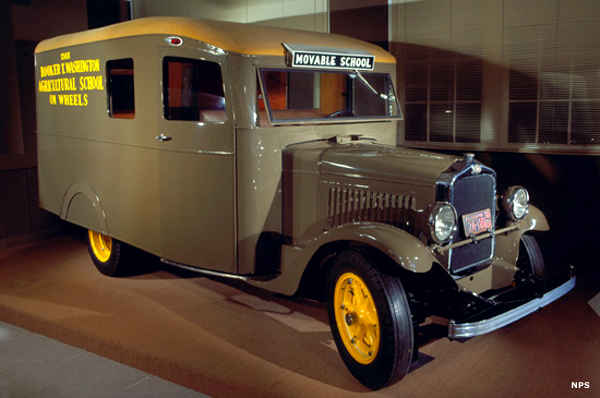 The Movable School, an exhibit at the Tuskegee Institute National Historic Site
Tuskegee Institute National Historic Site
National Park Service
Photos courtesy of the National Park Service