Tuskegee Airmen National Historic Site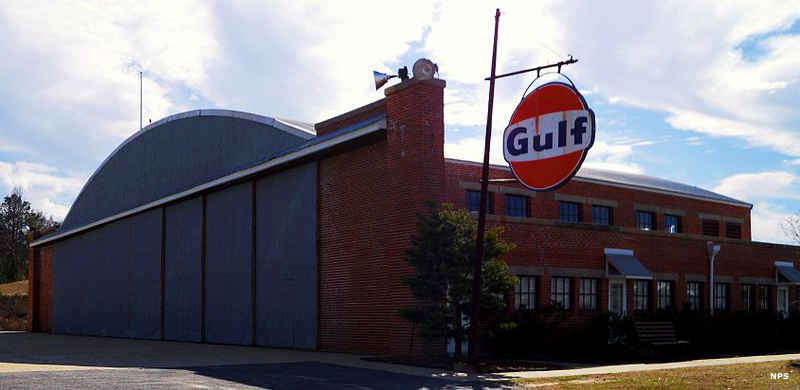 Tuskegee Airmen National Historic Site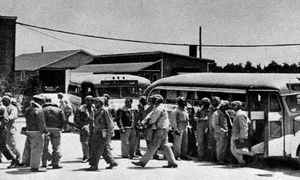 Trainees getting off the bus
at Moton Field
In the early 1940's, the US Army began an experiment to train African-American men to be military pilots. Over time, the experiment became known as the "Tuskegee Experience" and the participants became the "Tuskegee Airmen." The "experiment" turned out to be quite successful with one graduate, Daniel "Chappie" James continuing on to become the first African-American Four-Star General.
The Tuskegee Institute, a small black college in Alabama, was chosen as one of six sites for the Civilian Pilot Training Program in 1939. That program was created to provide a surplus of pilots in case a national emergency came up. Then in 1941, the US Army stepped in and the program at Tuskegee began training pilots for military duty. The military program ran from 1941 to 1946 when it returned to training pilots for civilian occupations again. Between 1941 and 1949 (when the program ended) more than 16,000 African-Americans were graduated as pilots.
The Visitor Center at Tuskegee Airmen National Historic Site is open daily from 9 am to 4:30 pm except for Thanksgiving Day, Christmas Day and New Year's Day, unless there is a weather or other emergency that shuts the doors for the day. There are no entrance fees for visitors to the National Historic Site. Groups of ten or more are asked to call at least a week ahead to make reservations for their visit. The Visitor Center and Hangar #1 Museum are both universally accessible. The National Historic Site is located adjacent to Moton Field, a non-commercial airport in Tuskegee.
Tuskegee Airmen National Historic Site
National Park Service
Photos courtesy of the National Park Service