Chickasaw State Park

In the camping area at Chickasaw State Park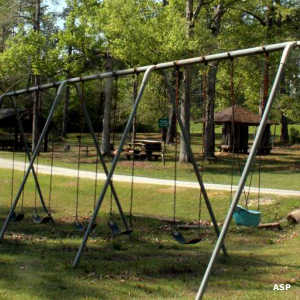 In the playground area
Chickasaw State Park is a 520-acre roadside park in rural Marengo County. Chickasaw offers hiking trails, a wading pool, modern campsites, several picnic pavilions including a large barbecue pavilion plus immediate access to the adjacent "Turnipseed-Ikenberry Place Physically Disabled Hunting Area."
The picnic tables and grills scattered throughout the park are generally available first come, first served. The small picnic pavilions can be rented for $30 per day, the large pavilions for $35 per day. The barbecue pavilion is available overnight and into the next day for $50. Day use hours run from 7 am to sundown.
The campground offers three campsites, each with water and 30-amp electrical service. Campsites rent for $12 per night, plus 4% lodging tax. Tenters can rent a spot with water and electric for $8 per night (plus the 4% lodging tax). Restrooms are available but there are no shower facilities. Prices are subject to change at any time.
To get there: Chickasaw State Park is about one mile north of Providence on US Highway 43.
Photos courtesy of Alabama Department of Conservation and Natural Resources