Cathedral Caverns State Park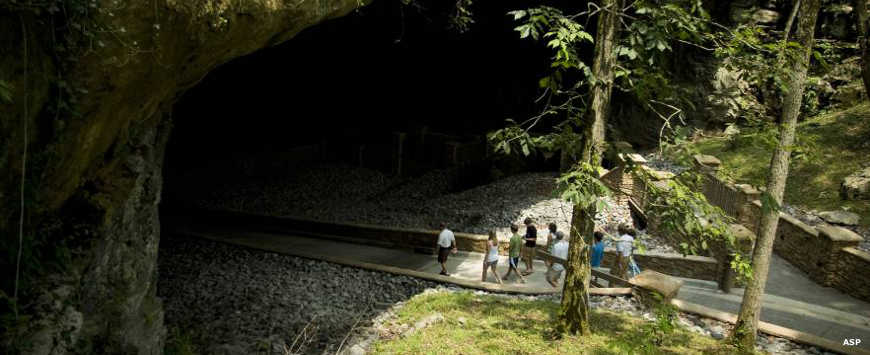 Heading down into Cathedral Cavern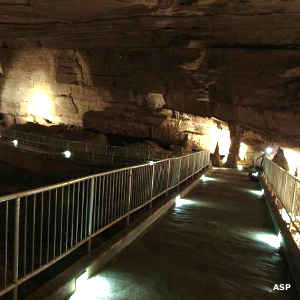 While there are a couple cave openings at Cathedral Caverns State Park, the most spectacular is the 25-foot high, 126-foot wide opening leading into Cathedral Cavern itself. In several places, the interior of the cavern is more than 100 feet wide. The total surveyed length of the cavern is 11,012 feet, a bit more than 2 miles. Tours of the cave go almost that deep but from that point, it's obvious that the cave continues deeper into the ground. Air in the cave is always 60°F year round and visitors who take the tour will see flowstone walls, frozen waterfalls and two stalagmite forests, one of which offers one of the world's largest stalagmites.
Tours of the cave are offered year round. The winter schedule (September 1 through March 14) offers 4 tours a day, every two hours beginning at 10 am. The summer schedule offers seven tours a day, basically every hour beginning at 10:15 am. Tours take approximately 1.5 hours and the route is wheelchair accessible. The park also offers a picnic area with two large rentable pavilions, a playground, climbing wall, rustic welcome center, concessions and several primitive campsites (no electric but community water and porta-potties are nearby). Also on the 461-acre property is the entrance to the Shelta Cave (also known as the "Gurley Cave"). Both caves became designated National Natural Landmarks in 1972.
Cathedral Caverns State Park is open for day users from 7 am until sunset, every day except Thanksgiving, Christmas and New Year's.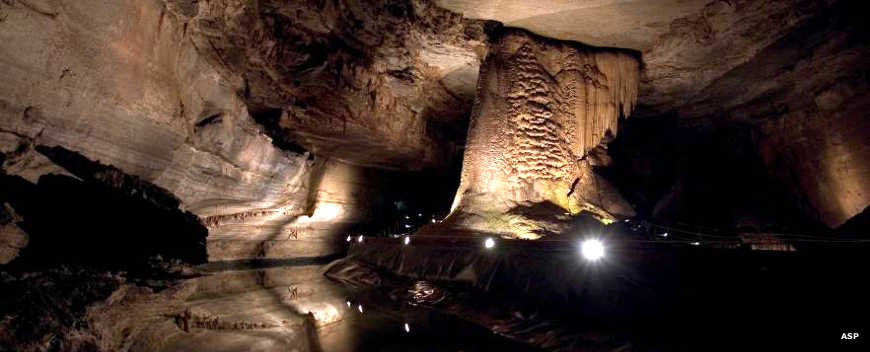 The Goliath formation inside Cathedral Cavern
Cathedral Caverns State Park
Photos courtesy of the Alabama Departmment of Conservation and Natural Resources