Black Warrior River Scenic Byway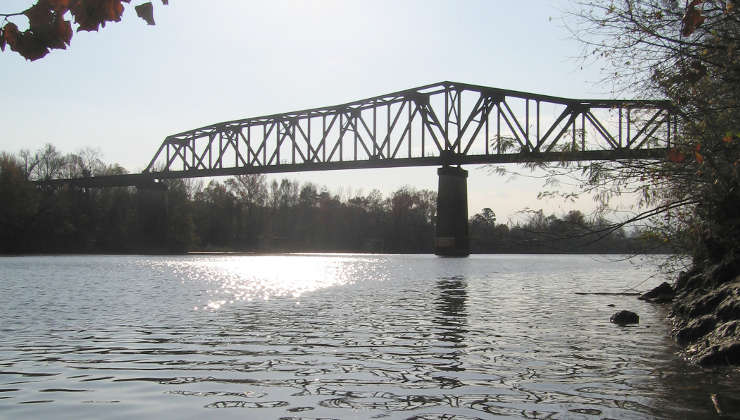 The Black Warrior River at Tuscaloosa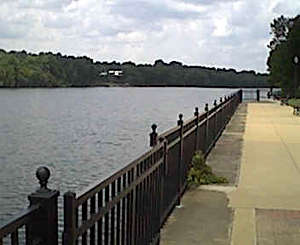 "Black Warrior" is a translation of the Choctaw word "Tuscaloosa." The Black Warrior River Scenic Byway runs along about 12 miles of the Black Warrior River in Tuscaloosa and Northport, Alabama. There are three bridges crossing the river along the way, and there's access to several historic ruins, structures and markers. There are also numerous pedestrian and bicycle trails, picnic facilities, parks, boat landings, fishing piers, art galleries and restaurants on the route. The scenic byway borders the historic downtown districts of Tuscaloosa and Northport. Tuscaloosa was the site of the Alabama State Capitol from 1826 until 1847. This is also very close to the campuses of Stillman College and the University of Alabama.
Hernando DeSoto and his men stumbled through this area in 1540, spreading their European diseases through the Mississippian people who lived around here (Moundville Archaeological Park, a collection of Mississippian constructions, is 15 miles away). Within 200 years after DeSoto, the whole area was depopulated and the Choctaw were beginning to move in. They built a settlement in the Tuscaloosa area, near the upper end of navigation on the Black Warrior River. The first white settlers arrived in 1816, incorporating Tuscaloosa in 1819 and Northport in 1871. The first ferry service was supplanted by a bridge that was built in 1835, connecting Tuscaloosa with countryside to the west and north. To the east were large shoals in the river and, seemingly, there was no business reason to go there. So they didn't.
In 1888, the US Army and their Board of Engineers began construction on a series of locks and dams in the Tuscaloosa area to improve the navigation and carrying capacity of the Black Warrior River. That made Tuscaloosa-Northport a major inland shipping port. The locks and dams have all been reconstructed since that time and the river undergoes constant dredging to maintain the navigational depth at nine feet.
Today, the Black Warrior River Scenic Byway is centered around the Tuscaloosa and Northport Riverwalks. Development plans for the area include hotels and a convention center, a welcome center, an amphitheater, bicycle and pedestrian trails, retail shops, restaurants, open spaces, office complexes and residential developments [sounds like New Urbanism to me]. Also included are efforts to restore the historic Queen City Bathhouse complex for use as a transportation museum. The Espey Bridge, at 122-years-old the oldest iron bridge in Alabama, is slated to be placed in the Northport levee system as part of the pedestrian and bicycle trails that make up the Northport Riverwalk.
The Black Warrior River Scenic Byway is basically a loop trail that runs along both sides of the river.
Upper photo of the Black Warrior River courtesy of John C. Watkins
Small photo of the Black Warrior River courtesy of WTBC Talk Radio