Geronimo Trail Scenic Byway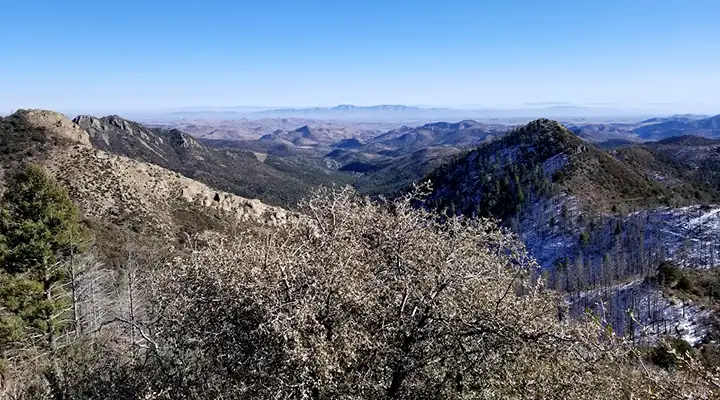 The view east from Emory Pass on the Geronimo Trail Scenic Byway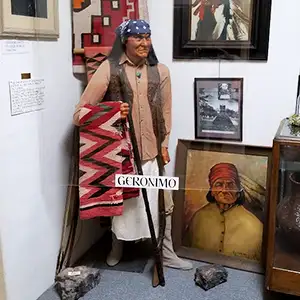 The Geronimo Trail Scenic Byway is basically a 154-mile half-loop around Aldo Leopold Wilderness. This is an area that was long frequented by Apache warriors. Geronimo even once said he was born near the headwaters of the Gila River. After Geronimo surrendered to General Miles in Arizona in 1886, the Indian Wars were essentially over and a flood of miners and prospectors descended on southern New Mexico. Gold and silver were found in several places in this countryside but the veins never lasted long. Today, driving this road is to take a drive through the history of the authentic West, right down to the ghost towns that were once thriving cities.
The Geronimo Trail Scenic Byway traverses landscapes that vary from forested mountains to desert bottomlands, with vast stretches of mid-altitude mesalands in between. It's a wide open country with man-made lakes, rugged mountain peaks, greasewood-and-cactus flatlands and heavily forested mountainous terrains. What you're going to see is pretty much how it's been for hundreds of years, and there are several good museums along the way that will attest to that.
The Geronimo Trail Visitor Center is located next to Interstate 25 in Truth or Consequences. Next to the visitor center is the Geronimo Springs Museum with a life-size wax sculpture of Geronimo himself. The museum also displays an impressive collection of prehistoric southwestern pottery. You'll also see some interesting artifacts from early ranch life and perhaps learn something about early Hispanic culture. The museum also has an interesting assortment of mammoth and mastodon skulls on display. Leaving Truth or Consequences you'll have to make a choice: go north or south?
If you go north, it's about 37 miles to the old mining town of Winston. Winston is four miles from the present ghost town at Chloride. The more rowdy folks in the neighborhood hung out in Chloride, the more peaceful in Winston. Winston today is still a ranching center with a general store, bar, café and post office. There are many historic buildings in Winston but the real gem of the area (historically speaking, anyway) is Chloride. There's still a few people in Chloride, enough to keep the Pioneer Store Museum open and run the RV park but not much else. A lot of the old buildings have been restored and Chloride still has that 1880's feel, even though the streets are deserted most of the time. The Pioneer Store was sealed up in 1923 when most of the folks left after the last mine closed down. Today, it has been refurbished and still offers an excellent glimpse into life in a mining town a hundred years ago.
The north branch of the Geronimo Trail ends at the Beaverhead Work Center in Gila National Forest. If you're driving a heavy duty, high-clearance 4WD vehicle and are up for the adventure, you could go left and follow Black Canyon Road (FSR 150) through the gap in the mountains between the Gila and Aldo Leopold Wilderness areas to pavement again at the Trail of the Mountain Spirits Scenic Byway (about 40 miles of rough forest service road). Otherwise you get to turn around and head back to Truth or Consequences.
Going south from Truth or Consequences will take you past Caballo Lake State Park to the junction with New Mexico Highway 152, which you'll then take west to San Lorenzo. Along the way you'll be passing through several more old mining towns, then climbing the backbone of the Black Mountains to cross Emory Pass before dropping into the valley of the Mimbres River. From Caballo, it's 32 miles to Hillsboro, then another 9 miles to Kingston. Some of what was the grandeur of Hillsboro is still standing but in Kingston, there's only one intact building left from the glory days: the Percha Bank (and it's now a museum). Kingston once had more than 7,000 residents but the present population is much closer to 50.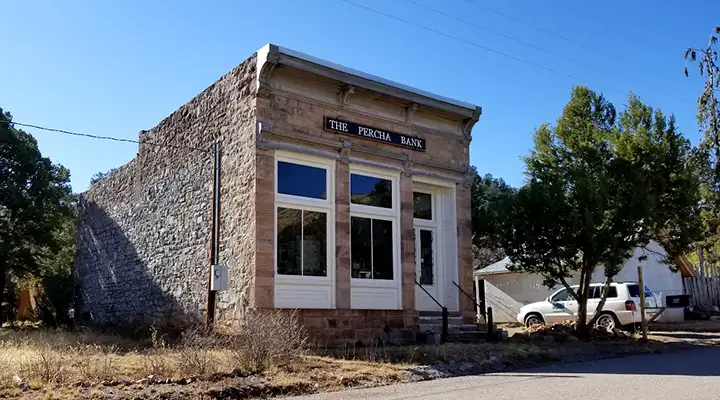 What's left of the Percha Bank in Kingston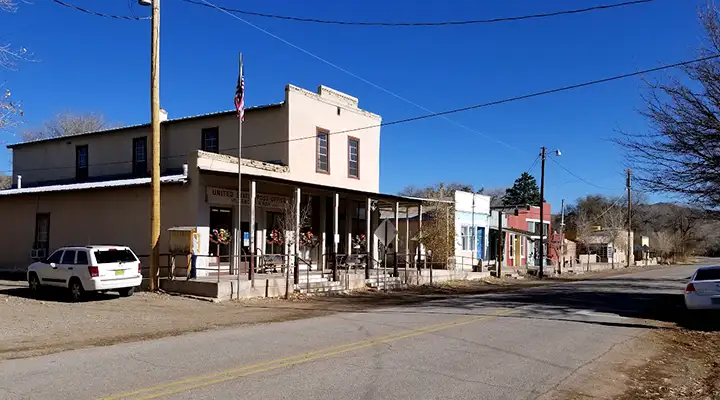 Downtown Hillsboro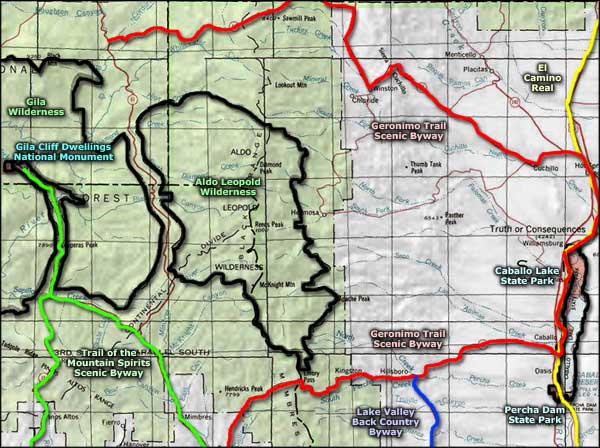 Related Pages
Map courtesy of National Geographic Topo!