El Camino Real Historic Byway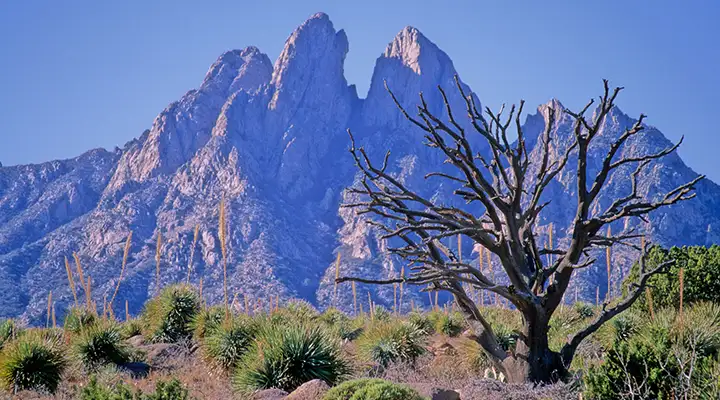 The Organ Mountains east of El Camino Real Historic Byway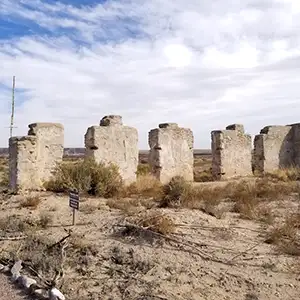 The ruins of Fort Craig
El Camino Real is a 299-mile route stretching from the Mesilla Valley to Ohkay Owingeh, north of Santa Fe. The route was first blazed by Don Juan de Onate in 1598 and it served for more than 200 years as the primary trade route between the Spanish commercial centers in Chihuahua and Mexico City and Spain's northern colonies in what is now New Mexico. For most of its journey in New Mexico, El Camino Real ran parallel to the Rio Grande. Many of the oldest Spanish settlements are along that ancient route. The stretch between Mesilla and Socorro in the old days was known as "la Jornada del Muerto" (the Journey of Death). These days, folks cruise through that zone in a couple hours, maybe stopping to go swimming or fishing in the reservoirs that weren't there in the old days.
During the Mexican-American War (1846-1848), General Stephen Watts Kearny marched several units of his Army of the West south from Santa Fe along the El Camino Real. As his men moved south, the Mexican troops ahead of him fled. By the time they reached Las Cruces, Kearny had taken New Mexico without firing a shot.
During the Civil War, Confederate troops invaded from Texas and set up a garrison in the Mesilla Valley. From there they marched north and conquered every Union outpost along the way until they reached Glorieta, east of Santa Fe. There, they were beaten back by Union troops in a three-day battle. The the Union forces pursued the Confederates south along El Camino Real until they returned to the Mesilla Valley, where they remained for the rest of the war.
These days, the primary route in the area is Interstate 25, but the designated El Camino Real Scenic and Historic Byway follows older state and federal routes through many of the old towns skipped by the Interstate. So you can still drive through many of the older areas, still see much of what hasn't changed in the last 400-plus years. You can also drive along the edge of Caballo Lake and Elephant Butte Lake State Parks and through Bosque del Apache and Sevilleta National Wildlife Refuges. However, the modern version of El Camino Real also goes right through downtown Las Cruces, Truth or Consequences, Socorro, Belen, Isleta, Albuquerque and Santa Fe...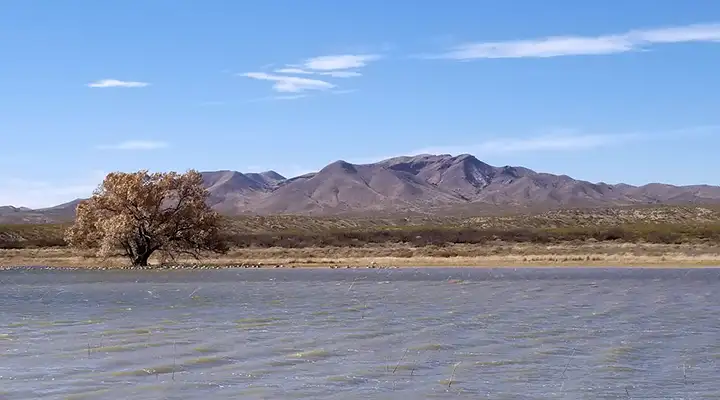 At Bosque del Apache National Wildlife Refuge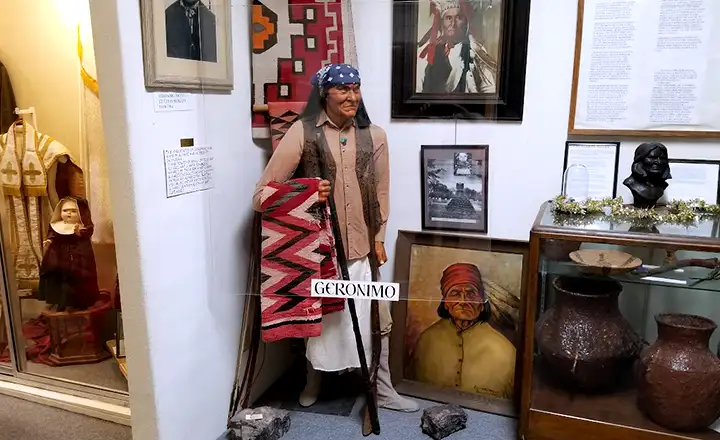 In the Geronimo Trail Museum in Truth or Consequences
Top photo courtesy of the Bureau of Land Management
Other photos courtesy of TheArmchairExplorer,
CCA-by-SA 4.0 License