Clayton Lake State Park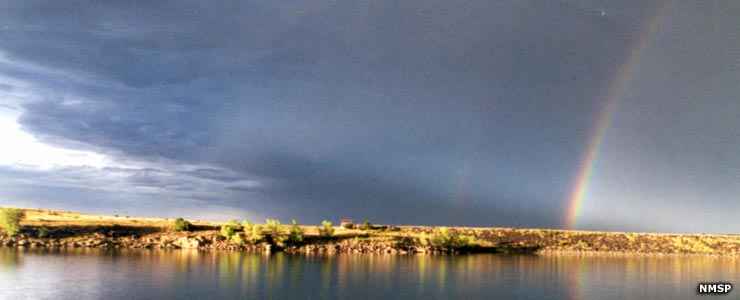 Summer scene at Clayton Lake State Park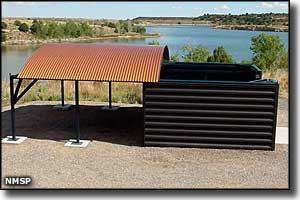 The park observatory
Clayton Lake State Park contains about 471 acres, of which 170 acres is lake surface. Clayton Lake State Park offers a visitor center, group shelter, campground with 37 developed campsites (seven of which have electric hookups), restrooms, showers, picnicking areas and opportunities for fishing, boating, sailing, hiking and wildlife watching. Mallards, pintails and teals like to hang out at Clayton Lake for the winter. They are often joined by up to 10,000 Canada geese plus a few bald eagles, golden eagles and osprey.
An added attraction at Clayton Lake State Park is the set of dinosaur trackways located along the dam's spillway. You'll find more than 500 fossilized footprints left by carnivorous and herbivorous dinosaurs, as well as footprints left by a few ancient crocodiles. The best times to see the footprints is early morning and late afternoon when the slanted rays of the sun bring them out in full relief. There are interpretive panels identifying paleontological features and significant tracks along that pathway. Archaeologists have also found many Clovis points on the property, most of them dating back up to 11,500 years.
Clayton Lake State Park is also justly famous for the size of the walleyes caught in the reservoir. Since 1980, four state-record walleyes have been pulled from these waters. The current record is 16 lbs. 9 oz.
Clayton Lake State Park also offers an astronomical observatory, complete with a roll-top roof and a computer-driven 12" Meade RCX400 telescope.
To get there: Clayton Lake State Park is located about 12 miles north of Clayton off New Mexico Highway 370 (part of the Dry Cimarron Scenic Byway). Gates are open from 6 am to 9 pm, every day of the year.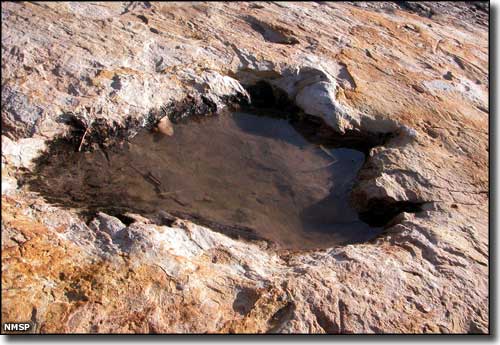 One of the dinosaur tracks found at Clayton Lake State Park
Photos courtesy of New Mexico State Parks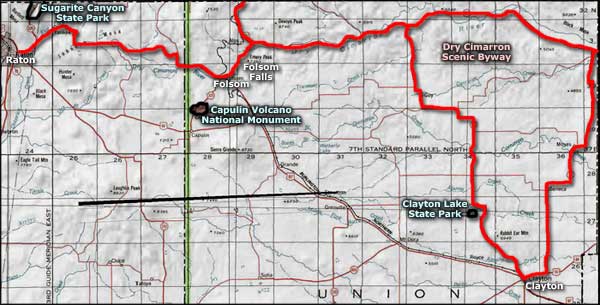 Related Pages
Map courtesy of National Geographic Topo!